Maths
At King's Hedges Educational Federation, Maths is taught rigorously, following a detailed progression from Nursery to Year 6. Key principles of fluency, problem solving and reasoning are embedded to allow most pupils to achieve mastery or greater depth by the end of each year. We think that learning times table facts to fluency is an essential skill.
Quote from Ofsted 2019:
"Typically, pupils make good progress in mathematical calculation. This is because they are taught a systematic approach which is used across all classes and year groups. This approach includes a method of self-checking results which improves accuracy and pupils' confidence in mathematics."
Early Years Ofsted 2019:
"Children make good progress in solving simple number problems because the methods they are learning help them to work independently and to check that their answers are right."
Nursery and Reception
Learning takes place in small, adult led groups and is linked to other areas of the curriculum. Pupil talk is extremely important. Children explore mathematical concepts like weight or shape through practical, hands on equipment and varied indoor and outdoor activities. Numberwork is taught as a separate session. Children quickly become fluent in rote counting, rational counting, recognising and writing numbers and skip counting in 10s and 2s. By the end of Reception children can solve simple plus and minus equations.
Key Stage 1
Daily number work continues in Years 1 and 2. Place value of numbers, counting and ordering and skip counting are still vital skills as well as learning some of the times tables. Fractions are introduced. Children become fluent in how to solve equations that require them to times and divide as well as add and subtract. Pupils apply their skills to problems frequently to demonstrate their level of understanding. Mathematical talk helps them to begin to reason mathematically and start to record this. Also, children are taught about 2D and 3D shapes, using measures and statistics in separate very practical Maths lessons that are often linked to other areas of the curriculum.
Key Stage 2
Number work lessons become progressively more challenging. Place value, counting and ordering will include decimal numbers and fractions. Skip counting includes decimal numbers and multiples of 10. By the end of Year 4, all times tables facts are learnt. Calculations for the 4 operations include increasingly bigger numbers, decimals and some fractions. Pupils are constantly applying taught skills to problems at mastery and then greater depth level. Pupils are asked to reason using mathematical language. In separate lessons, children find the area and perimeter, draw and read graphs and measure angles. This learning is often linked to work done in Science, DT or computing.
A group of Year 6 mathematicians took part in the Primary Mathematics Challenge in Autumn term. Three pupils got through to the bonus round and achieved Silver and Gold awards. A big well done to all who took part!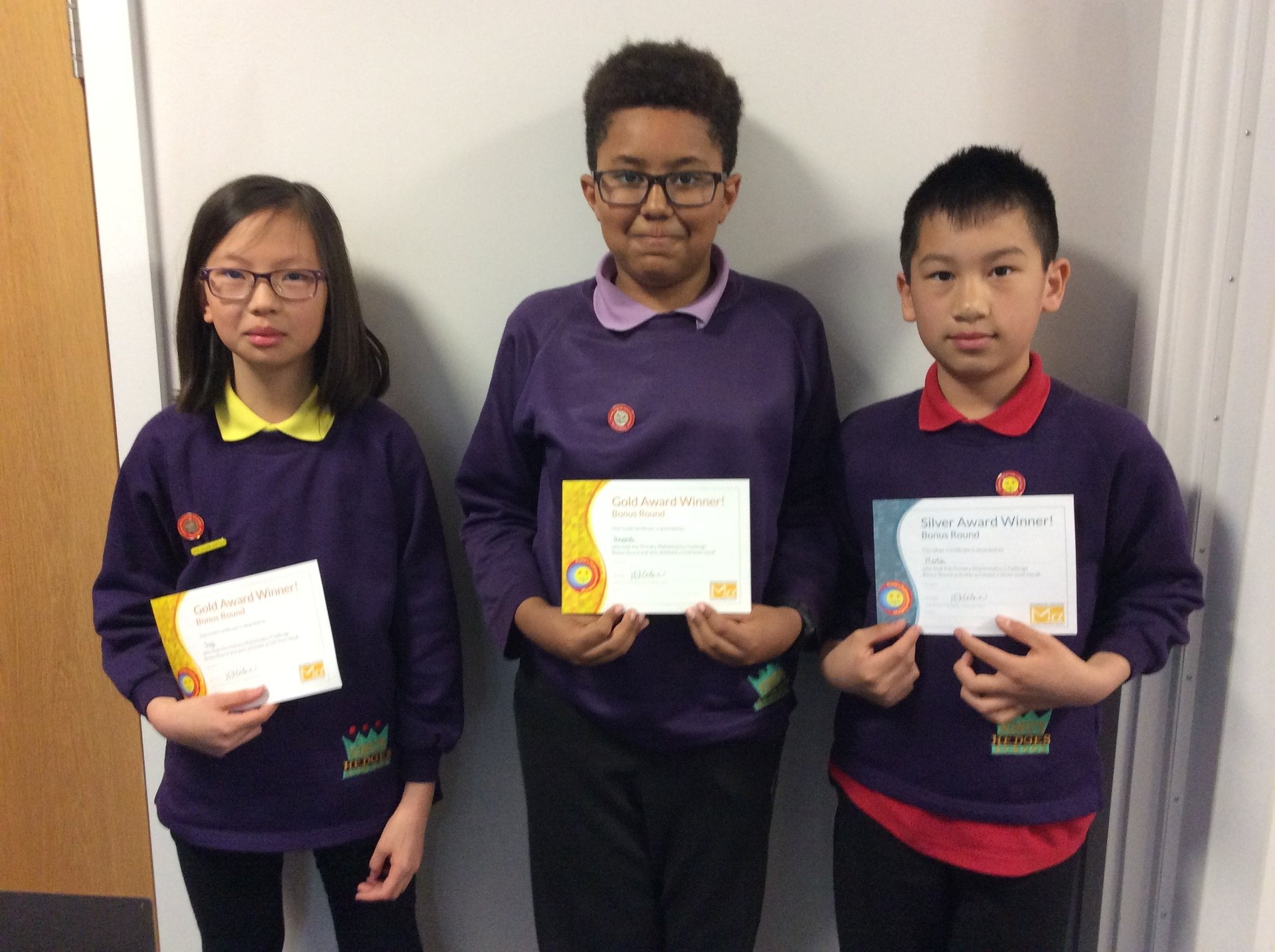 Useful Links
To view the Calculation Policies please click here
How Numberwork works - an overview: click here
Reasoning in Maths: click here
Problem Solving in Maths: click here
Fluency in Maths - an overview: click here
Helping your child at home - A guide for parents: click here