Music Events
Pancake Day: Shrove Tuesday
As whole school singing assembly was on Shrove Tuesday we learnt a song called 'Pancakes', which we really enjoyed singing, even if it did make us all a bit hungry! Have a listen and see if you can hear the pitch getting higher with each new verse.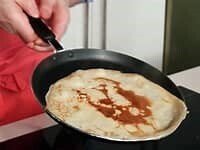 KS2 Choir
KS2 choir sang to their peers and the staff in whole school assembly just before half term. It was a little nerve-wracking, but they sang beautifully and many children were extremely brave and sang solos. The two songs we sang were 'I'm OK!' and 'Rockstar'. You can hear both songs here:
Visiting Musicians from St. John's College Cambridge
The pupils of KHEF have been extremely lucky this year to have had two visits from the talented musicians from St. John's College Cambridge.
Before Easter, four musicians came and played to all the KS2 classes, showcasing the sound of the viola, bassoon, oboe and French horn. Pupils were treated to some wonderful pieces of classical music and were then able to ask questions. The students were certainly put through their paces, with questions such as, "Can you play your piece with your eyes closed?" and "Can you play 'Star Wars'?"
Since the musicians came into school, Mrs Addison has found that many of our pupils have remembered the distinctive sounds of these four instruments and have a better understanding about how the different instruments make their sounds.
Three of the four students returned after the Easter holidays to play to the KS1 children in the Big Hall. This time the students from St. John's had come prepared with some favourites, including music from Moana. They were given further requests by the children for any future visits, including music from Mario Kart and Encanto. One child also asked if they could play their instruments upside down. This is yet to be seen!
Thank you to the staff and students of St. John's College. We hope you will come back and play for us again!
______________________________________________________________________________
Christmas has been very different again this year, click here to view our Christmas Performances 2021
Christmas has been very different this year, click here to view our Christmas Performances 2020
Choir singing at Buchan Street Care Home
It was lovely once again to visit Buchan House and be given such a warm welcome by the residents. The KS2 choir sang brilliantly and brought some Christmas cheer to the audience. It was really nice to have some of the residents singing along with us this time and we were particularly pleased to teach them the chorus of our favourite song 'Sheep'!
KS2 Carols
As has become the KHEF tradition, KS2 bring some festive cheer to families and friends by singing carols outside. This year we sang some old favourites (Christmas wouldn't be Christmas without singing Sheep at least once!) and each year group also sang their own song. We tried standing somewhere different this year and it didn't work out, but thank you for coming back a second time in inclement weather to see your children. They greatly appreciate it when someone comes to listen.
Christmas Assembly
KHEF gathered in the hall just before the Christmas holidays, right from Reception up to Year 6, to enjoy some Christmas musical fun! We like to do this so that we can all hear what the other year groups having been learning and performing. Some of us sang, as you can hear, and any year groups who have been learning an instrument played for us (Y2 boomwhackers, Y3 chime bars, Y4 ocarinas and Y5 ukuleles). In addition, the Y5/6 recorder club played and KS2 choir sang. We had a great time all together and we look forward to doing it again next year.
.
.
.
.Visiting Musicians from St. John's College Cambridge
.
.
.
.
.
______________________________________________________________________________