Assessment
Assessment at King's Hedges involves everybody
The staff
From Nursery to Year 6 the teachers at King's Hedges regularly assess all areas of the curriculum through a variety of methods. We assess both formally through testing and informally. Informal assessment takes place in several ways and is our main way of assessing the children's progress. We observe children working; listen to answers given during discussion times; use questioning techniques to draw out knowledge of different areas; set work for children, which gives them opportunity to show what they have learnt and help children improve their work through careful comments when marking. We call this 'Assessment for Learning' and you can see this in your child's books as improvement points.
Assessment is integral to the working and success of King's Hedges Educational Federation and helps us provide a supportive and personalised curriculum for every child as they make their way through our school.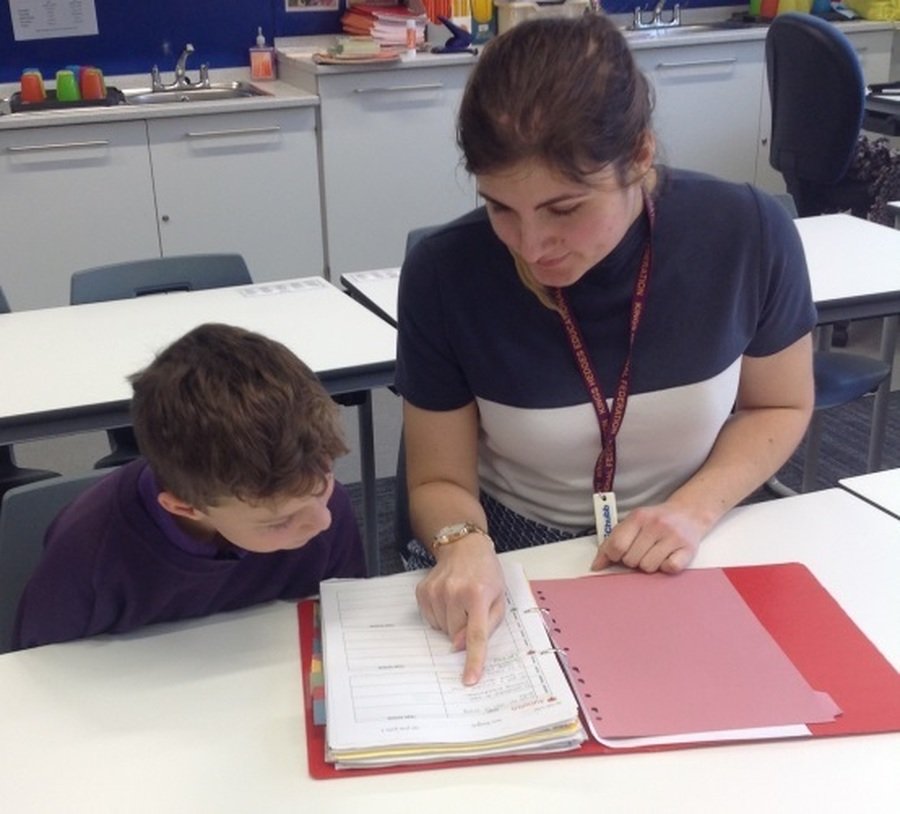 The children
We use My Pupil Profiles from Year 1 to Year 6 and this works as part of the Assertive Mentoring. The pupil mentoring time takes place with every child every term. This is time allocated to each child when they can talk to their teacher about the areas of their learning which they feel are going well, and decide on the next target to reach to develop their learning. During the meetings time is also set aside to talk about the child's attitude to learning. We set targets together for Reading, Writing, Maths and attitude and these are kept in the child's Assertive Mentoring files. You can see them in each classroom and the children will know their targets. The children are fully included in their target setting and they are clear about what they need to move their learning on. We also have regular assemblies where any achievements towards their targets are shared with the school in the form of Merit assemblies. During these weekly sessions the children stand up and share their achievements with the school, explaining what they did well and how they met their targets.
Below are some examples of both English and Maths targets displayed in classrooms.
Writing
The children are given success criteria to include in their work. These are new skills that the children are trying to use for the first time. The children are also given non-negotiables. These are skills that are expected to be in every piece of writing as the teacher knows that the child can use them e.g. capital letters and full stops. Children have visual targets in class to remind them what skill they are focusing on and aiming to improve i n their writing.
Below is an example of how assessment supports children's writing:
Here is an example of a Y5 piece of writing. The Learning Intention: to write a persuasive advert is shared at the start of the writing. The success criteria grid is also shared at the start so that the children are very clear what they need to include in their writing to be successful. During their writing the children are encouraged to read it through out loud to ensure it is of the best quality from the start, we call this first draft editing. The children then make corrections and improvements as they go, using the grid to help them.
Once the work is completed the child will read through their work and mark it against the marking grid, the teacher will then do the same. During this time the children will be given time in class to edit their work to further improve the piece, this may be completed as individuals or using paired marking. During this time the teacher will look at the whole piece of writing to ensure it makes sense and that it is purposeful. Any good examples of where the child has met the success criteria effectively are again highlighted below. The teacher will then include an improvement point for the children to complete to improve their work.
Writing is celebrated across the school via Star Writer displays visible in all classrooms. Children are also given the chance to go to a special group on a Monday morning to share their work if they have been chosen as 'Writer of the Week'.
Reading
Targets are also set for the children to become more fluent readers. During Guided Reading discussions are had around the skills of both decoding and Comprehension. Staff use these times to monitor the children's ability to apply the skills they have been taught during the twice daily Reading sessions. This system is now being fully supported by Accelerated Reader from Year 2 to Year 6, which has greatly improved the children's motivation for reading. Children are aware of their own band levels and take regular quizzes to assess their understanding of what they are reading. Targets and band levels are displayed in the classrooms to support this.
Maths
Skip counting and times tables targets are set in every class. They start in Reception, where children are taught to count forwards and backwards in 10's, 5's and 2's to Y6 targets where children are taught to skip count forwards and backwards in decimals. The children's are motivated to move on to the next target and take great delight in moving their name onto the next one. If you would like to help your child practise these, please look in their reading records, where a list can be found. The children are fully included in their target setting and they are clear about what they need to move their learning on.
The parents
Parents with children from Nursery age to Year 6 can become involved with their child's targets through their child's 'Home/School Partnership Book'. They can keep in touch with their child's progress by reading teacher comments in the 'Chatline', by helping their children practise their targets, which are regularly recorded in their books and by meeting their child's teacher at the end of the day and at parent's evenings.
During termly parents consultations the children's targets are shared with parents and a discussion is had around how the parents can help their children meet this target. The parents are included in a discussion about their child's My Pupil Profile and the parents also sign to show their understanding and views. The children's work is discussed and a graph is shared with parents showing how the child is progressing during their time in the school. The graphs highlight the children individual progress from Y1 upwards and also how the child is getting on compared with National Data.
Parents from Nursery and So to Speak up are encouraged to support their child's development at home. In Nursery and So to Speak parents are invited in at the start of each session to write their child's name. This is recorded for the week so that both the child and parents can see the progress the children are making. Teachers and support staff will discuss any ways to help at this time, including helping with correct pencil control and letter formation.