School Assemblies
Christmas Assembly
For the second year in a row the whole school gathered in the Big Hall to celebrate all our hard work in music this term. It was a great opportunity for children from the different year groups to hear what other children had been performing this Christmas. Lots of the children sang their Christmas songs from their performances and some year groups played their instruments.
Year 4 played their ocarinas (Jingle Bells in two parts and We Three Kings.)

Bryan played two pieces on the piano (Jingle Bell Show and The Holly and the Ivy)

Year 1 sang Ding Dong Merrily on High!
Year 2 sang Let's Have a Very Good Christmas
Year 6 performed We Wish You a Merry Christmas on Boomwhackers in two parts.
Year 3 sang Happy Christmas, a round in two parts.
Key Stage 1 sang Boogie Woogie Santa

The Y5/6 recorder group played three pieces (Mike Oliver's Christmas Jumper, Ring the Bells, and Jingle Bells)

Year played the ukuleles and sang (Last Christmas, Santa Claus is Coming to Town and Rockin' Around the Christmas Tree)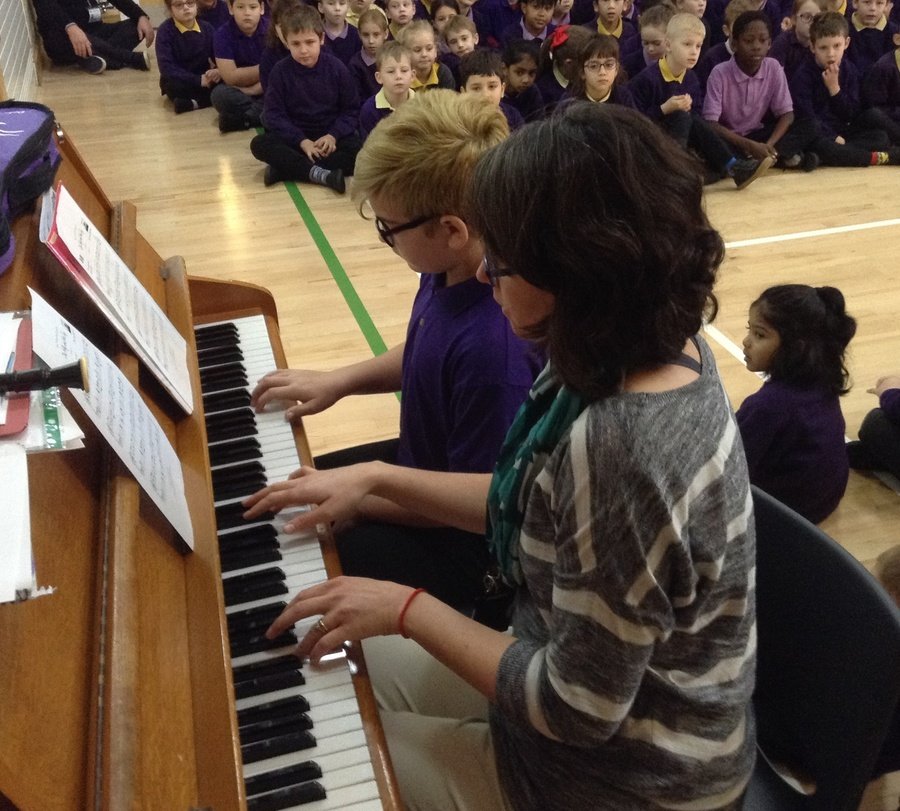 Remembrance School Assembly
David the Vicar came in to talk about Remembrance, we listened to the poem, 'In Flander's Field' by John McCrae. We thought about things we remember and celebrate such as Diwali, Christmas and our birthdays. We then held a minutes silence, before each child in school laid a poppy that they had made, along the school corridor this was such an impressive sight.
'In Flanders fields the poppies blow
Between the crosses, row on row,
That mark our place; and in the sky
The larks, still bravely singing, fly
Scarce heard amid the guns below.'
Whole School Assembly
During music assembly this week, Marjan from Year 3 delighted the whole school with her beautiful violin playing. She played two pieces very confidently: Ode to Joy and New World Symphony. She used her bow so well and filled the hall with a lovely sound. Thank you Marjan! Keep up the good work!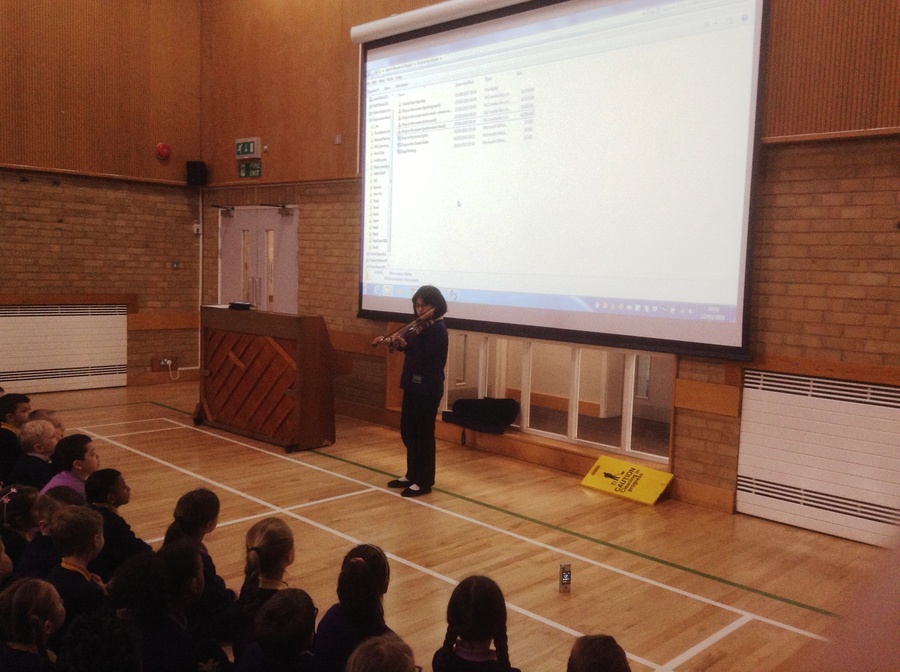 Harvest Festival Assembly
What a lovely celebration of harvest we had! Thank you to all families at KHEF for their amazing generosity. Here are some of the songs we sang to celebrate:
Nursery and Reception – Oats and Beans

KS1 and KS2 – Easy Peasy Harvest (See how many different foods you can find hidden throughout the song!)
Choir – Harvest for the World
Reading Celebration Assembly
We had our new half-termly Reading Celebration Assembly. Lots of children had achieved their targets last half-term, winning tokens for their house. Star Readers were also chosen from each class to recognise children who have excelled in reading through reading at home and making great progress.

We also had a fantastic number of children reaching the next word count bands. Samuel, Thomas and Denis have also become our first 'Word Millionaires', having read an amazing 1,000,000 words already this year! Hopefully, we will soon have lots more!
Sedgwick came first in the house competition for the number of points their house had earned, whilst Fitzwilliam came top with the highest %. In KS1 the Caterpillars had read the most words together on Optima 500, having read a brilliant 6,265 words, although Frogs were not far behind at 6,127.
Children should be bringing their certificates home with them. They have all done a fantastic job at their reading this half-term – well done King's Hedges!
Music Assemblies
We have a weekly singing assembly where we enjoy singing a range of songs together as a whole school. We often spend time working on a particular piece to perform at a special celebration or assembly. Last term, we learnt a song called Let Love Shine Through, which is a song which was sung by schools across the country to celebrate National Sing-Up Day.
We also from time to time invite children to perform on their instruments or our school choir sings for us. Here you can hear our KS2 choir singing a tricky three part song called Building. We really enjoyed learning this song, although it was quite a challenge.
Singing Assembly
Following our visit from Peter Hilken (songwriter) in the Autumn Term, we have been learning some of his songs in our singing assembly. Here is a recording of us sing a song called Echo Elf. It's a lovely lilting song about what an echo is and who might be making the sound!