At King's Hedges Educational Federation we use a system called 'Assertive Mentoring'.
Aims:
to raise standards for all

to motivate and involve all children in their learning, progress and target setting

to track and monitor pupils progress to ensure all children meet their targets

to unpick barriers to progress in either achievement or attitude

to inform and involve parents in their child's learning
Assertive Mentoring brings together a whole series of initiatives and policies we already have in the school, it then goes the extra step to improve and make them better.
Please click here Assertive Mentoring Guide for Parents/Carers
Academic Work
Assertive Mentoring highlights what a child can do and what they need to do to move to the next level. It allows teacher and pupils to set manageable targets in reading, writing and maths for every term, and to talk to the child in depth about how they are going to meet these. The targets will be reviewed each term or as and when the child meets them. The targets are realistic and manageable for each child to achieve over a term. The targets are then shared with parents during parent consultations so that parents can help their child achieve them even more quickly. This means that all parties involved in supporting the child knows exactly what they can do and what they need to do to move forward. These targets are supported in the classroom with regular marking and feedback; this includes regular 'Improvement Points' for the children to complete to progress with their learning.The children and their mentor also set a personal target for each term.
Assertive Mentoring is based on a colour coding system for both attainment and attitude
The 'My Pupil Profile' is colour coded using the following criteria. We have also developed a guide for parents explaining the new system and what it means: Please see the link above 'Assertive Mentoring Guide for Parents'.
Attainment: This shows how your child is progressing throughout the year.

Attitude: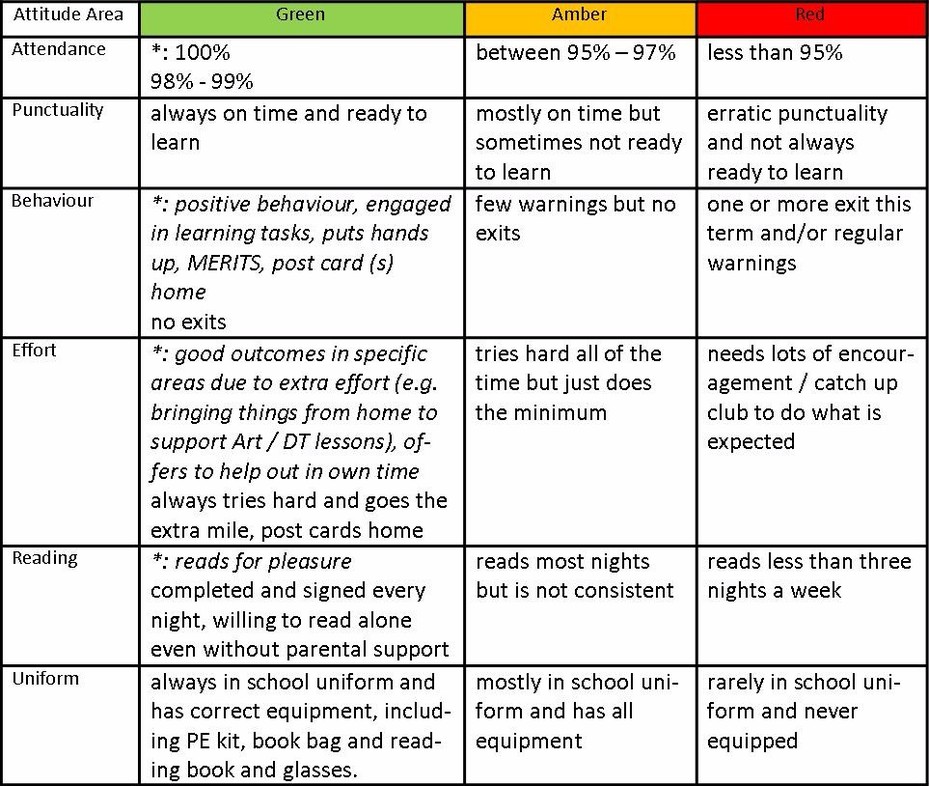 The * (in italics) shows if the child is going above and beyond in particular areas. To obtain a star means that the child is consistently going the extra mile.
The advantages of the system
Quick and easy to use and understood by all parties

All staff in the school use the same approach to ensure consistency

Children judge their own learning (attainment) and behaviour (attitude)

Parents are clear about how to support their child at home

Parents have a greater understanding of how well their child is doing

Children are empowered to take ownership and control over the way they behave and their attitude to learning

Children who have a good attitude to learning are rewarded and praised
Assertive Mentoring Files
The attainment and attitude targets are set out in a form called My Pupil Profile. See example form linked here My Pupil Profile. The colours indicate how well the pupils are doing with both attainment and attitude and the targets set will relate to the areas the children need to work on or have support with. They are kept in the child's Assertive Mentoring Folder, along with all assessments, achievements and evidence gathered during the term. These are kept in the classroom where the children can access them and are used with the child during the mentoring meetings. This folder will stay with them during their time with us at King's Hedges. The files will be shared with parents during the Autumn and Spring term Parent Consultations and are used as a guide for teachers when writing their end of year reports.