Personal, Social and Health Education
PSHE, RSE, P4C and SMSC
Personal, social and health education is a fantastic area of our curriculum, which underpins the ethos, development and learning of all of our pupils. At King's Hedges School we look at Health, Relationships and Living in the Wider World. PSHE includes everything in school that promotes our pupils good physical and mental health. PSHE provides opportunities for children to develop knowledge, skills, attitudes and behaviours which will enable them to become successful learners and effective citizens, both within and beyond school. It teaches them how to value their own unique selves and the communities they belong to. PSHE opportunities teach children how to judge risk and do their best to stay safe, look after their mental health, feel financially capable and make thoughtful choices in areas such as food, rest, exercise, the future world of work. It incorporates learning how to care for others and the environment. We teach strategies to develop emotional well-being. We see PSHE as a very important part of every child's education. The Citizenship curriculum is embedded in PSHE.
Relationships and Sex Education is one strand of PSHE. It begins with our youngest pupils recognising their own value, strengths and how wonderfully clever their bodies are. We see age-appropriate Relationship and Sex Education as important for our pupils.
Sex Education is the teaching of human conception and birth. After consultation with the head teacher, parents and carers do have the right to withdraw their child from Sex Education.
'Pupils have a strong sense of right and wrong and they use this to monitor their own and others' behaviour. Pupils in Year 4 spoke enthusiastically about helping the children in the Reception classes to walk quietly to and from assembly and around the school.' OFSTED 2019
To see our 'Health Education' page please click here To see our 'Relationships Education' page please click here
To see our 'In the Wider World' page please click here To see our 'Wellbeing' page please click here
To see our 'Philosophy for Children' page please click here To see our 'Citizenship' page please click here
Anti-bullying poster competition
"Thank you again for taking part in our United Against Bullying Assembly week. Even though we had a huge amount of posters in (over 600!), Marvin the Moose really enjoyed looking through them all.
Unfortunately, the overall winning poster was not a pupil from Kings Hedges, however Marvin did pick a favourite entry from the school which was Sofia's.
On behalf of everyone at Cambridge United Community Trust, I would like to wish you a Merry Christmas and a happy new year.
Ashley Dyer
Primary Education Manager Cambridge United Community Trust"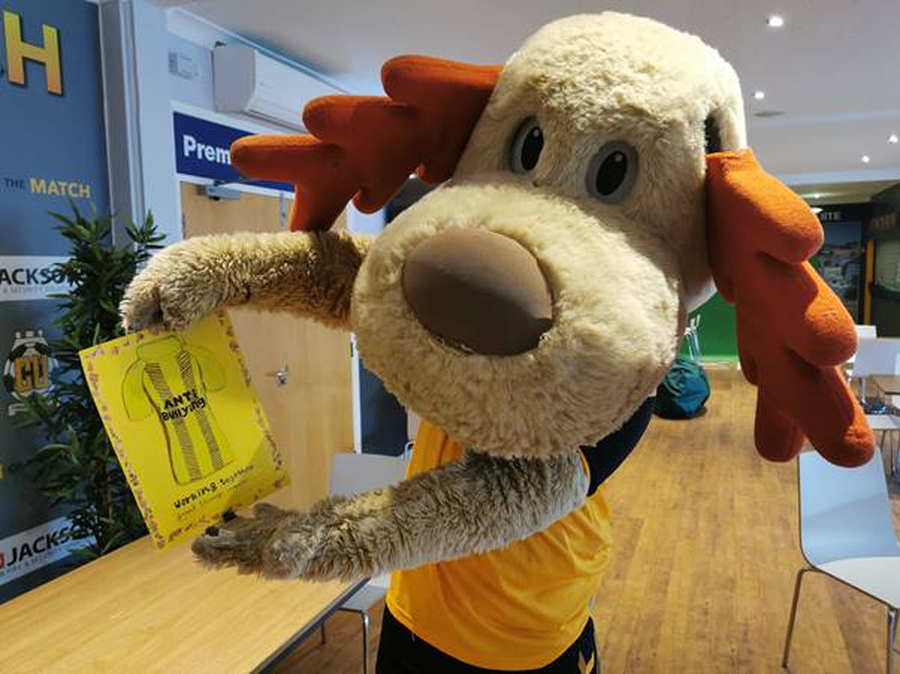 Philosophy for children is an exciting new area that we are developing. It is designed to improve thinking skills in children of all ages, which in turn will help them to grow in their understanding of themselves, others and their world. Sessions are fun and usually begin with a warm up game and then a stimulus is introduced which leads to a question being chosen by the children and discussed. Final thoughts let the children reflect on what has been shared and think about how their own view point might have been expanded or even changed.
Social, Moral, Spiritual and Cultural learning
We are always trying to provide opportunities to promote the SMSC development of pupils. This will happen in everyday lessons and as we work and play as part of a community. We love to hear about achievements and reflections pupils have made; celebrations or traditions they have been involved with. Explicit opportunities, such as assemblies, outside visits, special occasions, guests, as well as links with other schools, countries and continents are welcomed. Please come and share your ideas and your cultural heritage with us!