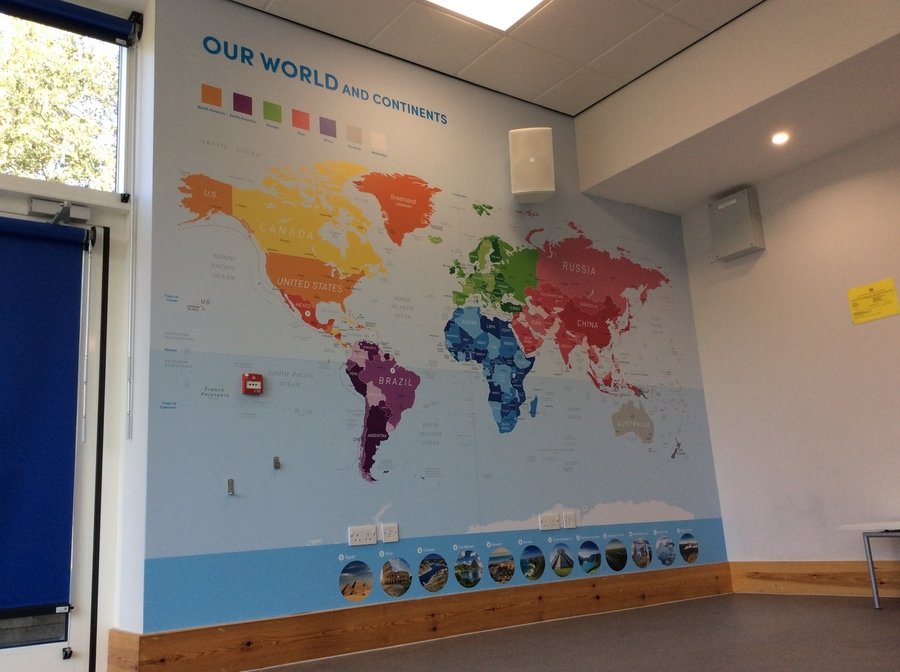 Reception Topic
All About Me
We have been talking about where we are from and the languages we speak. We have created a lovely display to celebrate the many different languages we speak.
Year 1 Topic
I'm new here, can you help me?
Year 1 started the year by learning about our school site and where the school is in our local area. They enjoyed going on a senses walk to find out what they could see, hear, smell, feel and taste around the school and in the outside areas. After that, they used their newly learnt Geography knowledge about their immediate surroundings to write a letter to Miss Merritt to tell her all about their favourite part of school. To deepen their Geographical knowledge further, the children learnt that the United Kingdom is made up of different countries and found the capital city of England on a map.
Year 2 Topic
Where can we find treasure?
Year 2 started the year with a gripping Geography topic and enjoyed dressing up for their 'Where can we find treasure?' Big Bang day! The children created their own islands using a range of resources from the Scrap Store. After that, the children learnt about the physical features of an island. To deepen their geographical knowledge, they had to apply their understanding of physical features and design their own islands. The children enjoyed using maps and exploring many seas and oceans too!
Year 3 Topic
Where's the best place to put your rubbish?
We identified natural and manmade features of our local environment. We focused particularly on where the things we throw away end up including landfill, recycling plants and other locations.
What causes earthquakes and volcanoes?
We enjoyed learning about volcanoes using technical language to explain the steps to create a volcano (including the eruption) and labelled a diagram of a volcano. To develop our geographical skills further, we then used an atlas to find where volcanoes are located around the world. We used ipads to find St Helen's volcano as well as the Pacific Ring of Fire. After learning about volcanoes, we then learnt about earthquakes! We explored how tectonic plates move and how this movement causes earthquakes. We learnt where in the world earthquakes happen and how dangerous earthquakes could be.
How far is it to Brussels?
During our Geography topic, we have focused on the continent of Europe. We have named and located the capital cities of neighbouring European countries, used an atlas (using the index) to find places and even put this information onto a map. We enjoyed tasting famous food from different countries, researching interest facts and learning phrases from some of the many languages spoken within Europe. After that, we learnt to recognise and locate the countries of different flags using an atlas. We explored some of the meanings behind the colours, symbols and pictures on different flags. In P4C, we discussed different philosophical questions including 'Why are maps important?', 'Are maps important?' 'What makes something real?' and 'Should old maps be seen as unimportant?'
Year 4 Topic
What makes a great journey?
Year 4 started the year with an exciting Geography topic and developing their knowledge about the UK. During their Big Bang, Year 4 enjoyed completing different challenges in the Blue Hall. They were able to locate the countries and surrounding seas of the United Kingdom as well as find at least 6 different cities using atlases. The children developed their geographical skills by planning a journey to another place in the UK.
Year 5 Topic
Are we nearly there yet?
Year 5 started the year with an exciting Geography topic called 'Are we nearly there yet?' The pupils enjoyed their Big Bang day as they used their knowledge of maps and aerial photographs to describe what a locality might be like. They showed their understanding through using a range of resources in the classroom as well as art materials. To deepen their geographical knowledge further, the children learnt how to read maps using six-figure grid references and Ordnance Survey symbols. They were then able answer questions using these newly learnt skills. Finally, the children worked hard to plan a journey to another place in the world taking into account distance and time. The children were excited about the Rugby World Cup so they planned to go there, using differing modes of transport and stopping off at different famous landmarks on the way!
Year 6 Topic
What makes the world go round?
Year 6 started the year with an exciting Geography topic called 'What makes the World go round?' During their Big Bang day, the children independently researched about time zones and presented their learning to the class. In Geography lessons, the children were able to identify different biomes found throughout the world, for example deserts and rainforests, and show this clearly on a map of the world. They developed their geographical knowledge by describing two different locations through comparison of their human and physical features.