King's Hedges Parent & Staff Association
King's Hedges Parent and Staff Association reformed in May 2015 after several years of cessation due to lack of parental support. Since then, we have organised many activities and events to raise money for the school. So far, we have been able to purchase children's books, Year 6 leaving gifts, pianos, travel for school trips and other valuable resources enjoyed by the children at the school and nursery.
We are very grateful to all the parents, carers, children and the rest of their families who have supported us in our activities and events throughout the year. Without your generosity, we wouldn't be able to support the areas of the school that we serve. We appreciate any amount of time, donations or support you can spare, no matter how small. You may be interested to know that the PSA is made up of only 4 main members. We would welcome new volunteers - please refer to this page frequently for details of when the next PSA meeting will be held.
Thank you, once again.
Emma Jaeger
On behalf of the King's Hedges PSA
Forthcoming Meetings:
27th April, May AGM (date to be confirmed), 29th June
All meetings will take place in the main staffroom, at 1:30 p.m. All are welcome to attend, please bring your ideas for fundraising activities.
Future Events and Activities:
Easter Tombola 2018
The PSA are overwhelmed by the support parents and carers (and staff) have given us this year with ensuring that the Easter Tombola was a success. We would like to say a huge thank you to all the donations we received.
Christmas Raffle Prizes and Bauble Competition 2017
- a massive thank you to all local business', parents and staff that donated towards the raffle the winners are:
Michelle, Ellie YEAR 3, Greta YEAR 2, Samuel YEAR 3, Evan YEAR 3, Maja YEAR 3, Megan YEAR 3, Alexia RECEPTION, Tony YEAR 2, Felix YEAR 2, Nicole NURSERY, Chelsea YEAR 6, Nicky, Maya YEAR 3
2017 Christmas Bauble Competition - our governors have selected the winners of the bauble competition and there was a winner from each class group.
NEWS
PSA Purchases New Electric Pianos for Music Room
We are very pleased to announce that the PSA have been able to purchase 2 new electric pianos for the school music room. Mrs Addison reports that they are "fabulous" and the children have enjoyed using their new instruments.
Our latest activities and events have been:
PSA Bonfire Change Trail 2017
We would like to send our thanks to all the families who contributed to this year's firework design. We were astounded with the amount of children bringing down their bags of spare change to add to the design. This year, we are very proud to have used our technical skills in making the design animated. Please watch the video below.
We managed to raise an impressive £302.28!!
A special thank you to Mrs Williams who created the design template for us.
PSA Christmas Cards 2017
Many thanks to the 200+ parents who ordered Christmas cards, calendars and mugs displaying their children's wonderful designs this year. We took over £2000 worth of orders! We will receive percentage of this as fundraising for the school, meaning that we have raised £377 from this activity. We would like to take the opportunity to thank all the staff for their part in facilitating the creation of the designs, and to the children who all did such a fantastic job with their own individual interpretations. We have pleasure in sharing some of these wonderful designs with you.
End of Year Raffle 2017
Thank you to everyone who helped support the PSA by either donating prizes or purchasing raffle tickets. We managed to raise almost £300 to put towards resources for the school in the new academic year.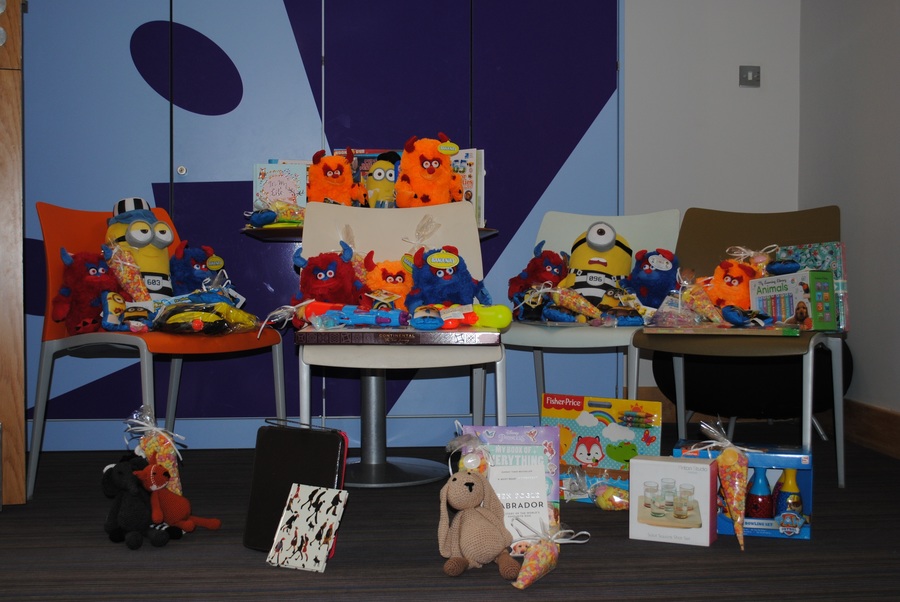 Arbury Carnival 2017
Celebrating Arbury Carnival's 40th birthday in style, the PSA was able to financially support the school to participate in this year's Carnival Parade. The weather was perfect, the children were great. The whole day was such a success - we even managed to raise £150 on our King's Hedges PSA Raffle Stall. Well done to everyone who won a Minion or a Monster!
Arbury Carnival 2017
Mad March Hair Day 2017
Mad March Hair Day, or Wacky Hair Day as it's known around the school, has proved to be very popular among children and staff this year! We have been impressed with some of the many colourful and creative designs that have come through our doors today; mainly we have wondered how long it has taken to construct such wonderful "dos". Well done to children and their families. Your efforts have helped us raised over £200. Thank you.
PSA Fundraising Activities
Wacky Hair Day 2017 - part 1
Wacky Hair Day - part 2
Easter Egg Raffle 2017
The PSA are overwhelmed by the support parents and carers (and staff) have given us this year with ensuring that the Easter Egg Raffle was a success. We would like to say a huge thank you to all the donations we received. We were able to distribute an impressive 106 prizes to ticket winners across the school and nursery. We sold just under 1,000 tickets and raised an incredible £422.40!
Christmas Raffle 2016
Thank you to everyone who purchased tickets for this year's Christmas Raffle. We were able to raise £276, with the proceeds being put towards new projects for the school in 2017.
Christmas Bauble Competition 2016
We held our popular Christmas Bauble Competition again this year for all children across the nursery and primary school. We were impressed by the creativity and talent expressed in so many of the designs. We managed to raised almost £400. A huge thank you to everyone who designed their own baubles this year, here are some of the winners ...
Firework Change Trial - Friday 4th November 2016
The PSA held a PSA Change Trail on Friday 4th Nov to raise money for much needed equipment for the school. Mr Angel drew a big firework design to which the children added their spare change to. It made a wonderful sparkly firework picture.
Your donations were so generous - we were a little overwhelmed with the response we had for this fundraiser - we managed to raise a massive £417!
Thank you so much for your support!
Christmas Cards 2016
Thank you to everyone who ordered Christmas cards, calendars and mugs with their child's design. We raised £385 worth of commission from the orders you placed. Thank you for your support! Here are some of the wonderful designs the children came home with:
So 2 Speak get crafty with pumpkins
The PSA were very pleased to support So 2 Speak with their latest craft session, this time with a topical Halloween theme, by purchasing pumpkins for the children to hollow out and decorate with spooky faces.
Some of our fundraising efforts last year were ...
We are always looking for more parents to join us. No matter how much you wish to get involved, we always welcome new parents to join our friendly team. Please contact the school office on 01223 518330 or office@kingshedges.cambs.sch.uk should you have any questions relating to the PSA.