Me 2 work
Dinosaurs!
The children have moved their bodies like dinosaurs as we read the 'Stomp, chomp, big roars! Here come the dinosaurs!' story. They especially enjoyed roaring and stomping as loud as they could just like the dinosaurs in the story. They have also used their maths eyes to give some spikes to a stegosaurus. Everybody held a picture of a stegosaurus without his spikes and we used pegs for spikes. The children looked at what number an adult was holding and then together we tried to figure out what that number was before adding the correct number of pegs onto the dinosaur.
We have also been super scientists this week. Emily had found some dinosaur eggs hidden in the dinosaur toy shop, and we decided that we would like to find out what dinosaur was inside. The children used either vinegar or water from a pipette to squeeze onto the egg. We couldn't believe it when the egg began to fizz with the more vinegar we added. It was amazing when we found the little baby dinosaurs inside! The role play area this week had been a dinosaur toy shop. The children have loved using the coins and notes to purchase their dinosaurs. In the exploration area the children have been palaeontologists, digging for dinosaur bones and fossils in the sand!
On Tuesday we celebrated pancake day. The children tried really hard to balance a coin on top of a lemon which was floating on water, coloured in pancake day colouring sheets and decorated their own pancake collage. We then also tasted pancakes! We heated some big pancakes up in the microwave and then chose what we would like to have on top. The children chose from strawberries, sugar, golden syrup or lemon juice.
For our activities this week we have made salt dough fossils. The children made the dough by mixing salt, flour and water in a bowl and then using rolling pins to roll it flat. They used small dinosaurs to imprint onto the dough just like a fossil would look. At the moment they are drying out in So 2 Speak! We have also been busy measuring dinosaurs. The children chose which dinosaur they would like to measure and then used measuring cubes to see how tall/ long their dinosaur was. We counted the cubes and then even had a go at writing the numeral!
Ways to say I love you!
We have been discussing what love is and what it means. The children have thought about who they love and why, who is in their family, how to be kind and we have read the 'Guess how much I love you' story. For one of our activities this week we have made bracelets for somebody that we love; the children were very thoughtful and tried to put colours on the bracelet that they thought their loved one would like. We have also made cards, using our finger to paint around a heart shaped stencil and then writing our names inside!
Our role play area has been a home corner for us to make food for our friends. There has also been a very popular singing cactus in there, which the children have loved pressing to hear him sing his love song and dance! In the exploration area the children have been recording messages on the voice recorders, looking for their heart shaped picture in amongst the hearts and cuddling the Guess how much I love you cuddly toys.
This week we also had the opportunity to find out about how we can try again if something does not go to plan. On Wednesday our cooking was a 'disaster!' We melted our chocolate ready to mix in with the rice krispies, but as we did the chocolate went hard! We decided that we would try again, and that is exactly what we did on Friday. This time the chocolate melted beautifully in with the rice krispies and set just in time for us to cut out some heart shapes.
We hope everybody has a nice half term, we look forward to seeing you again on the 24th!
Senses!
Every day we have explored one of our senses. On Monday we used our eyes to look at our colour changing sensory toys together in the dark. On Tuesday we used our feet to feel, stepping in beans, chopped tomatoes, cornflakes, bubble wrap and water! On Wednesday we used our tongues to taste, and tasted a slice of lemon. Everybody at least licked the lemon, and we had lots of fun watching each others' faces. On Thursday we used our ears to listen and listened to a variety of sounds on the whiteboard and had to guess what it was we could hear. On Friday we used our noses to smell and passed bowls of orange, shaving foam and turmeric around the circle covered with tin foil to see if we could guess what the smell was through the little holes.
Our role play area this week was transformed into a sensory den! It was filled with lots of sensory toys for us to look, feel, listen to and smell! The classroom has been very dark this week while we have had the sensory lights on. In the exploration area we have had lots of fun with orbeez. The children have loved feeling the orbeez and seeing what colours they could find. Another one of our activities this week has been making lava lamps. The children were fascinated as we used funnels to put oil, paint, glitter and alka seltzer together in a bottle and watched it bubble.
Our cooking this week has been lemon cupcakes. After we had tasted the lemons we used another one to squeeze the juice into our mixture. Once they had finished cooking in the oven we then put lemon icing on top with a lemon jelly sweet! We hope they tasted as delicious as they looked!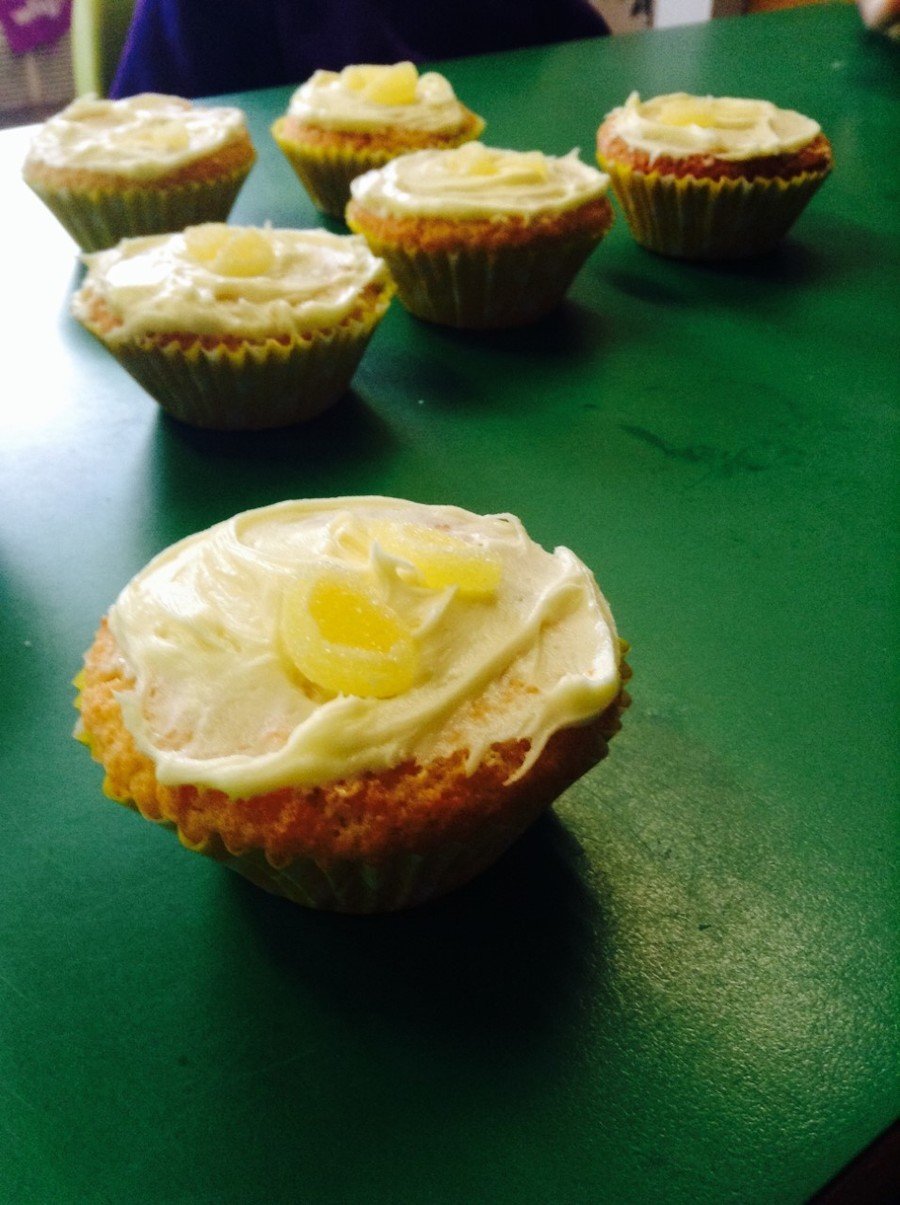 Art and Artists 2
This week we have continued to learn about Art and Artists. We have looked for art in the environment, been curious learners during our flower science experiment and we have also been learning about Chinese New Year this week.
On Monday it was lovely to be joined by so many adults to help us celebrate Chinese New Year with some fun fine motor themed activities. We then discussed what Chinese New Year was and who celebrated it. We joined in with a lion dance, listened to a Peppa Pig story about Chinese New Year and then we each tasted our own fortune cookie! It was lots of fun to find out what our fortunes for the year were. Later in the week we also had a go at using chopsticks to eat noodles. The children were amazing and everybody had a go.
The role play area has continued to be a messy play area, where the children have been practicing their colour mixing learning. The exploration area became a tuff tray with a big wok cooking noodles in the middle. There were bowls around the outside and also different coloured pom-poms with chopsticks/ tweezers for the children to practice using them and develop their fine motor skills!
For activities we have looked at the artwork of Kandinsky and created our own versions! We used different sized circles and stuck them on top of a black square. The children were very proud of what they had made and we looked at each others artwork to decided which ones were our favourites and why. We have also continued our colour mixing learning, by having a go at mixing the primary colours with a friend. The children loved exploring what colours they could make and then using the colours to make their own picture.
Art and Artists
This week our topic has been 'Art and artists.' We have been focusing on colours this week; looking at rainbows, sorting objects by colour, reading Elmer the elephant and exploring making marks in a variety of ways with all of the different colours.
Our role play area has become a messy area, full of opportunities for the children to get messy and explore mark making. They have painted, used chalk, blotters, paint sticks, felt tips, wax crayons and coloured pencils. The children loved drawing on the big sheet of paper on the wall. (We had a big talk about how it was not ok to draw on the walls at home though!)
In the exploration area the children have been using their fine motor skills to pick up the pom poms with the tweezers and sort them by colour, while also reading the Elmer colour book and finding the objects that matched the objects on the pages in the book.
For our activities this week we have been looking at the colours we can see in a rainbow and using chalk to make our own rainbows on card. We have also used colour wheels which had a spinney arrow to choose which colour we should colour in a square of Elmer the elephant. It was lots of fun to close our eyes and spin the arrow. For cooking this week we made a rainbow cake! Hopefully it tasted as fantastic as it looked, we thought it was amazing to see all of the bright colours!
Music
This week our topic has been 'Music'. As you can imagine, it has been a very loud week! We have had lots of fun exploring a variety of instruments. We learnt the names of the ones that we did not know and have discussed whether we need to shake or bang them. We have played the instruments to different songs to make 'loud' and 'quiet' sounds, had a go at following instructions to 'stop' and 'go' with shaky eggs and have been showing off how we move to music. The children have some impressive dance moves!
The role play area has been a music den, full of wooden, plastic and technological instruments! We had lots of fun playing on the big floor piano. In the exploration area we have been making pasta shakers; putting pieces of pasta into small containers and putting the lids on to shake them. After a couple of days of pasta on the floor we remembered to put the lids on top before we shook them!
For our activities we have explored the music den with an adult, trying out all of the instruments and singing our favourite songs together. We also made our own instrument using recycled water bottles and a selection of seeds and beans. It was tricky to put the little bits into the bottles but everybody persevered and were very proud to shake their bottle when it was full enough. Our cooking activity this week was to taste some loud sweets… popping candy! Everybody went onto the rainbow for trying something new. We all put the sweets into our mouths at the same time and stuck out our tongues to listen for the sounds. Although it felt a little strange in our mouths, we all asked for more and tasted the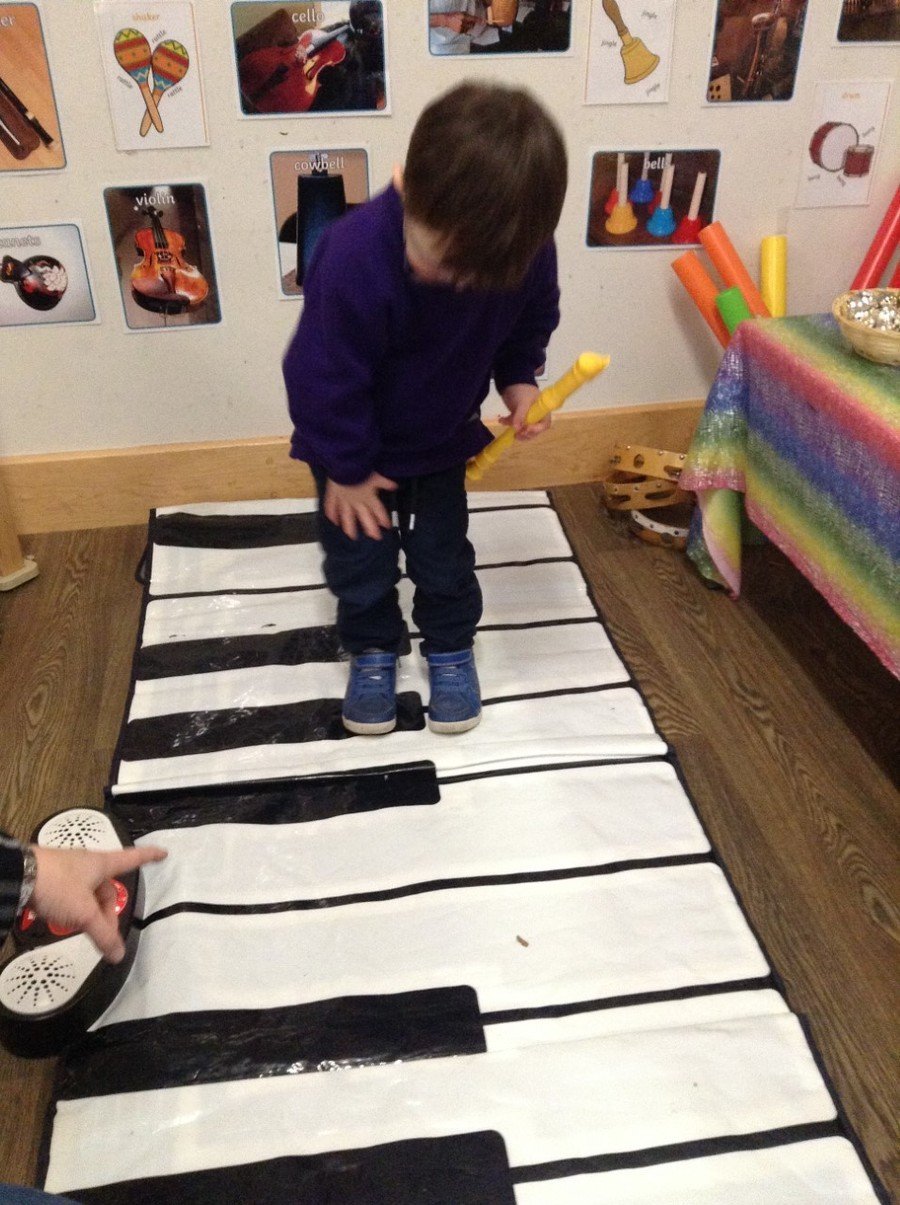 Autumn
This week we have been learning all about what happens in Autumn! There have been leaves everywhere in our classroom! We have searched through the leaves looking for pine cones and conkers in the exploration area, there were some animals hiding in there too! Our construction area had lots of big wooden blocks for us to build houses for the bears so they didn't get cold! It was lots of fun to work together with our friends and make big homes for the animals! Our 'eye spy' area was a mini forest and we could see lots of Autumn treasures hiding in there. There were lots of creative leaf activities as we painted and collaged using Autumn colours like red orange and brown. One of our adult lead activities was to make leafy hedgehogs! We thought they looked very spikey. There was a Gruffalo and small world forest area for the children to have lots of imaginative play in too- they especially liked the treehouse! The children's favourite area of the week was our imagination area, transformed with hundreds of leaves into our very own Autumn forest with lots of hidden forest creatures to find! We even had time to celebrate bonfire night with some firework painting before ending the week with our cooking session and making some tasty chocolate and orange leaf biscuits!
Autumn senses
We have had a lovely first week back after half term, the children have been very busy exploring our Autumn senses classroom! There were lots of insects to discover in the crunchy leaves in our exploration area as well as some bumpy pinecones and shiny conkers! The group had lots of fun in the dark tunnel again this week, especially when we added some big bouncy pumpkin balloons to play with! Everyone had lots of fun with them! There were more pumpkins in our fine motor activities as the children tried hard to use the tweezers and grabbers to pick up conkers and put them into the pumpkin pots! There were even pumpkins in our creative area as the children painted pumpkins and even decorated real ones. One of our activities this week was to hammer some big pegs into some pumpkins, that was very tricky, but we all enjoyed trying! Our funky fingers area had lots of giant pinecones for us to wrap up in colourful ribbons- we thought this was lots of fun! We went on an Autumn senses walk this week too, looking at the different coloured leaves and finding signs of Autumn in the playground. We also collected hundreds of leaves ready for our next theme- 'Autumn' we hope you can see them all in the classroom next week!
5 senses!
This week we have been learning all about our five senses! We have had lots of fun exploring the different learning areas, the sensory tubs with noisy bells and scented wax cubes kept lots of the group very busy! The children liked investigating the different textures and objects in the sensory den, especially the ones that made lots of noise! One of the favourite activities of the week was hiding in the dark tunnel and using the torches to find all of the different colours! We had so much messy fun this week with new sensory play to try each day, we tried playing with gloop, shaving foam, coloured spaghetti and even wobbly jelly! We didn't mind getting dirty hands, we washed them when we were finished! One of our adult lead activities this week was to taste some new foods- we all liked the crunchy rice cakes but were not too sure about the juicy lime! This week our PE session was in the big hall with our friends in So 2 Speak, we tried lots of new skills and listened very carefully to the PE teacher. We ended the week making chocolate crispy cakes with a popping surprise! The children liked trying the popping candy before we sprinkled it onto our cakes!
My friends
This week we have been learning all about friends, the classroom has been so busy as we have been talking about our friends and learning everyone's name! We had fun playing with the small world school, making all the children play on the slides. There have been lots of creative activities, making things for our friends – we have made threading bracelets, decorated beautiful cards and coloured paperchain friends too! The imagination area was a birthday party with a huge birthday cake to share with our friends, the group loved singing and preparing the tea! We worked together to build towers with the soft play, it was lots of fun jumping and climbing on them too! This week we have been enjoying sensory circuits with our friends and practicing our turn taking skills- we are getting better every day! Our PE session was lots of fun this week as we went into the big children's playground and used the hoops and played football together! We ended the week with our cooking session we baked a big chocolate cake and then we decorated it all together- we all took an enormous slice home to share with friends at home too!
My family
This week we have been learning all about families! We been practicing all the different Makaton signs for our family members and using them in our family fingers song! The group have loved having the dolls houses to play with, there has been so much imaginative play, moving characters around the different rooms, climbing stairs and putting them to bed! The home corner returned to the imagination area and all of the children had lots of fun making food for their peers and the adults in the room! The group have also enjoyed feeding the dolls this week, they have been so gentle and caring with the baby dolls too. One of our adult lead activities this week was to explore the shredded paper, we found lots of pictures, puppets and dolls of different family members and it was lots of fun hiding them again! Another activity was to make beautiful, sparkling frames to display pictures of our families- we used bright colour markers and some glitter too! During creative time the children had the chance to make their own lovely pictures especially for their family, we even tried some mark making on family tree pictures. The 'eye spy' area was popular this week as the children spotted Peppa pig and her family, we talked about what we could see them doing in their house. The group also enjoyed the fine motor activity this week as they used tweezers to sort the families into matching colour pots! Our cooking session this week was lots of fun too as we made gingerbread families- they looked and smelled amazing!
Happy and sad
This week we have been learning all about our emotions- and talking about the things that make us happy and sad. There was water play in the exploration area with lots of emotion stones with different faces, for one of our activities we found the faces and tried to make the same face in our feelings mirror! We kept our imagination area as a doctor's surgery, this week we were helping to make lots of babies better. The children tried lots of different creative techniques, this week they especially liked peeling the emotions stickers and sticking them to the paper. Our creative activity was to paint happy and sad face balloons, it was lots of fun and a bit tricky to paint on wobbly balloons! All the children have loved playing with all the small world toys this week, we had lots of Peppa pig toys for pretend playing and lots of the group really liked the noisy hospital and ambulances! Our PE session this week was a play dough disco, it was so much fun squishing and squashing the play dough to the music! We ended the week with our cooking session and made some silly face biscuits- we even tried a few of the sweeties as we were decorating them!
All about me
This week we have been learning all about ourselves! Our bodies and our faces and all of the things we like. We had lots of fun in the imagination area pretending to be doctors and looking after our friends to make them better! Our creative area was full of faces as we painted, collaged and even made some out of play dough with googly eyes! Our activity was to make our very own paper plate faces, we looked in the mirror at all of our features and used the coloured paints and tissue paper to make a mask! Our construction area was a dressing up area where we tried on lots of different costumes, we were very good at trying to put things on all on our own, and asking for help when we needed it – we had some very funny costumes! The exploration area was perfect for making marks in the sand, one of our activities was to draw faces and make hand prints in the wet sand. Our maths area was very busy with puzzles and magnetic bodies to build and everyone loved playing with the Mr potato heads! For music this week we have been dancing to 'head, shoulders, knees and toes', we hope you keep practicing at home! We ended the week with our cooking session and made some tasty funny face pizzas – we hope they were as delicious as they looked!
Starting nursery
We welcomed the children back to the first full week in Me 2 Club and met lots of new friends! We were happy to see the new children settle so quickly and enjoy all of the different areas and activities in the classroom as well as outside. We had fun playing in the water and counting the 5 little ducks in the exploration area and using the large blocks in our construction space. The home corner was very popular as lots of the class pretended to make tea and cakes for the adults in the room. For our group activities this week we made some lovely hand print tiles to remember our first week in nursery. We also talked about the class all fitting together, and decorated some colourful puzzle pieces for our class display. We like to have lots of messy and creative challenges in the classroom and they have all enjoyed experimenting with paints, glue and play dough! The new children have loved exploring our outside play area, climbing, sliding and riding on the bikes! For our music session we tried out lots of different instruments and have been learning the song 'This is the way we go to school', we've been trying out our dance moves too in our PE session. We ended the week with our cooking activity and baked some tasty puzzle biscuits!