Year 6 Music Work
Year 6 Stomp Performances
Year 6 have now finished preparing and rehearsing their group Stomp performances and presented their final piece to the rest of the class. You can see from the photographs the variety in the compositions and also the drama and humour included. These were the final pieces:
| | |
| --- | --- |
| Class 1 | Class 2 |
| Brushes and Buckets | Chairs & Books |
| Buckets and Spoons | Cups and Straws |
| Hama Beads | Office Work |
| Scrapers | Pebbles |
| Washing Bottles | Suitcases |
| | The Schoolroom |
| | Tins and Brushes |
| | Velcro |
Stomp Rehearsals
Our stomp compositions are coming along well and our rehearsals are well underway.
The Year 6 pupils have been working in groups to compose different sections for their composition as follows:
Their original pattern using rhythms created by listing several cheeses and saying them rhythmically, such as:
"Queso Blanco, Kashkaval, Valencay"
The composers have then taken a particular interrelated dimension of music, such as 'texture', and have played around with it during the repetitions of this pattern.
A play-around section involves taking a short series of rhythms and playing one small section per person, adding in a new phrase each time round until the whole rhythm is played. This is a useful tool for entering and exiting the stage. We have based our play-around sections on one of the following 'cheesy' poems:
Roses are red,

Violets are blue,

I love tacos,

And queso too.

Sweet dreams are made of cheese.

Who am I to diss a brie?

I cheddar the world and a feta cheese.

Everybody's looking for stilton.
This is a call and response section, where one person or group plays one rhythm and the rest of the group responds. Some groups have based their rhythms on the syllables of real questions and answers, and other groups are using further cheese patterns to form their structure.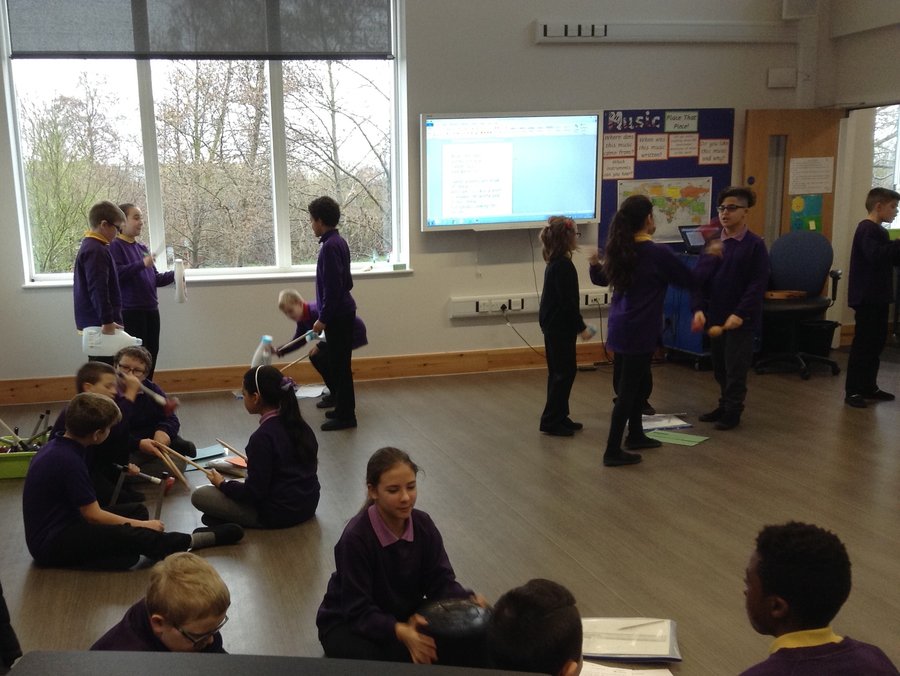 Stomp
We started this year's music with two exciting workshops with a Stomp artist called Adele Thompson. In these sessions, Adele inspired us with her passion for performing and provided us with some great rhythmical material for us to use and adapt to create our own Stomp pieces in our music lessons. Did you know there are at least 1831 different types of cheeses in the world? We have been using the names of cheeses to help us create interesting rhythms.
Stomp Planning
Following on from our Stomp workshops with Adele Thompson, the Year 6 pupils have written a plan outlining a Stomp piece they would like to perform. They have thought about the structure of the piece as well as the orchestration and the humour. From these plans, we have chosen some of the best and are now working in groups to develop these with a performance in mind. Here are two examples of the writing:
STOMP
Year 6 were very fortunate to have two workshops with dance and stomp artist Adele Thompson. We all learnt a lot about passion and energy in performance and now have a wealth of rhythms at our fingertips ready to start choreographing our own stomp pieces. Here are some photos of us all in action: