Year 4 Music Work
In Year 4, we started our musical learning this year with a focus on listening and appraising. We worked with two pieces of music in particular: In The Hall of the Mountain King and Russian Dance (Trepak) from The Nutcracker. We then used this second piece as an inspiration for some short performances.
Laying the foundations for performance:
We watched professional orchestras performing both these pieces on a DVD which brought the music to life and modelled excellence in performance.

We responded to the music and shared our opinions about it, helping us to get a feel for how a composer selects and plays around with the interrelated dimensions of music, creating a whole range of interesting effects.

We watched some professional dancers performing 'Cossack' dancing to Trepak and were astounded by their agility and how they brought the music to life.
In small groups, we then created our own movements to fit with the main theme from Trepak and performed them to the class.

As a class we provided constructive feedback on the quality of the performances to help us hone our performing skills.
Year 4 Music Performance to Families and Friends
Year 4 gave a wonderful performance to their families, friends and teachers in the Big Hall and did themselves proud! It was one of the best audiences we've ever had at KHEF so thank you for showing up and supporting the children.
The Year 4 pupils played their ocarinas, including playing some challenging harmony parts and some of their own compositions. They then sang two songs as a year group with many solo and small group parts.
In addition to this, a selection of children read out their performance poems which they had written in class, which were thoroughly enjoyed.
Rhythm and Composition Work
Year 4 pupils have been using the same sports that they learnt in Year 3 to start composing their own piece for the ocarina. In addition to the four sports (football, basketball, water-skiing and darts), they have also been using swimming, which is made up of two crotchet rests. These rests have proved quite challenging to draw. We will use these compositions as part of our performance to the parents at the end of the year.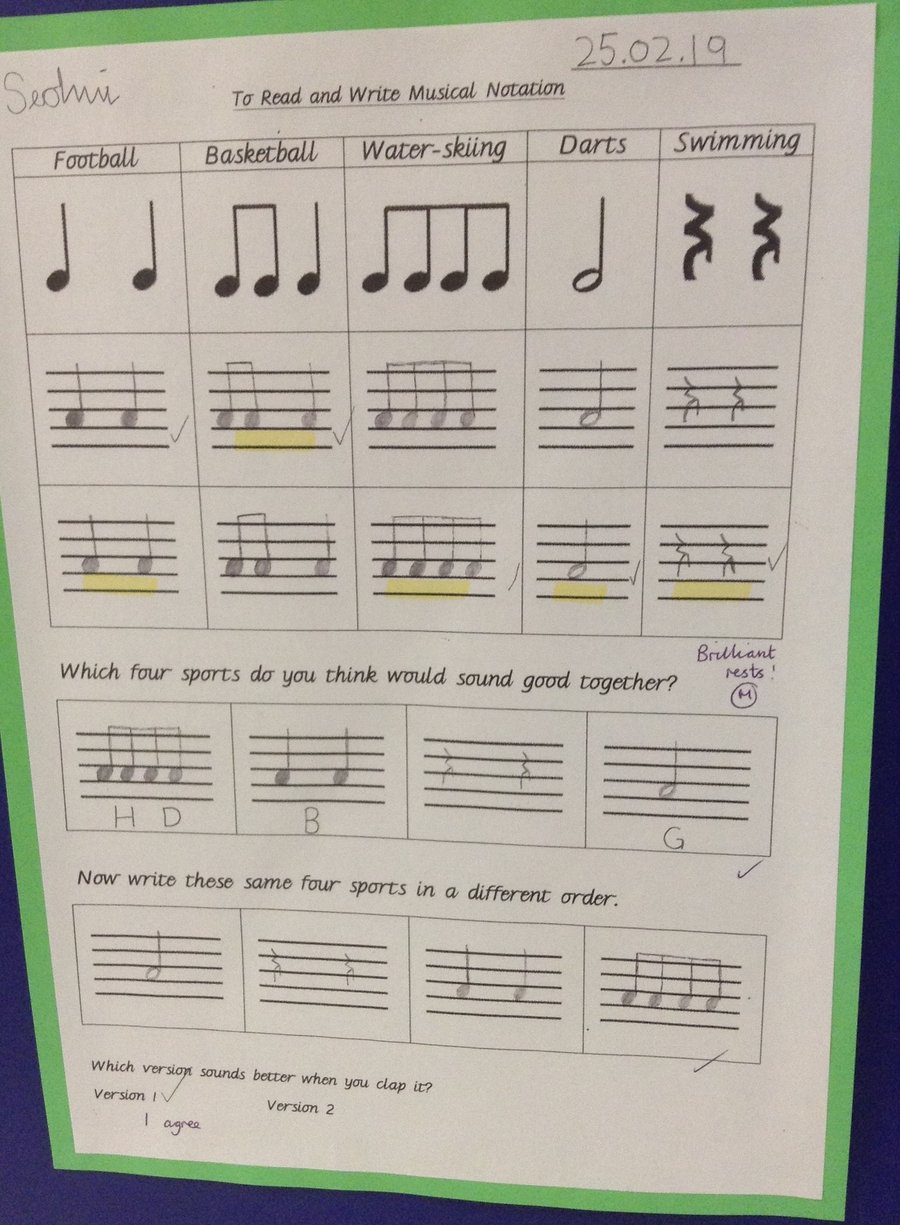 Ocarina
In Y4, children all learn to play the ocarina, which is our first woodwind instrument at KHEF. We have been using a programme called Play Your Ocarina and are able to play almost a full scale of notes. We have been learning how to read the OcTabs, which are a special type of notation just for the ocarina.
Listening Out for Tempo and Dynamics
This term, Y4 have been listening to music with a particular focus on the tempo and dynamics. We have listened to some all-time greats such as Hall of the Mountain King and Handel's Messiah. We used listening maps for these to help us follow the music and to see how the interrelated dimensions of music were being used by the composer.
We then went on to listen to Haydn's Enigma Variations which we thoroughly enjoyed. In this music, each variation depicts one of Haydn's friends (and one variation his dog!) We then wrote plans of how we would compose our own Enigma piece of music, using the interrelated dimensions of music to good effect to depict someone we know.
Classroom Celebration
Having given such an excellent performance to the parents in Y3, the current Y4 children had set themselves a high bar for this year's performance and they did not disappoint. They have worked extremely hard to learn a new instrument this year: the ocarina. In the performance they not only played some pieces with challenging notes and fast tempi, but both classes played a piece with a harmony part. This year for the first time, the children improvised on their ocarinas and also played their own compositions. Then they finished with a bang, by singing their year group song Those Magnificent Men in their Flying Machine. Well done Year 4!
Year 4 Dynamics Work
This term, Year 4 pupils have been listening to a wide range of music, with a particular focus on spotting dynamics and changes in dynamics. We have learnt the musical terms for these including pianissimo, piano, forte, fortissimo, crescendo and diminuendo.
Two of the pieces we have enjoyed are Hall of the Mountain King by Grieg and The Hallelujah Chorus by Handel's Messiah.
Our listening work culminated in this piece of work based on Beethoven's 5th Symphony where we used what we had learnt to think about the dynamics and orchestration of the piece: