Year 3 Music Work
Year 3 and 4 Choir
Thank you to Y3 and 4 choir who have been a delight to work with in the Spring Term. We chose bright and cheerful songs to help with the grey and cold weather. They sang two songs for us in assembly: Sunshine in My Heart and Sing It!
Both Year 3 classes played the chime bars at the Christmas assembly very confidently. We only started learning these pieces in November and there were lots of notes and patterns to be learnt. We have talked a lot about how to give a high quality performance and how to manage the challenging sections of music, without giving up. The audience certainly appreciated their talents and hard work.
We have continued our learning on the chime bars, but are now attempting more challenging pieces, building on the good practice developed in Year 2.
Laying the foundations for performance:
We have been thinking about quality of sound and working towards making a unified and pleasant sound in preparation for performance.

We have been thinking about our posture, beater hold and using alternating hands, as we know a polished performance takes self-control.

We have all had a turn at improvising in a section of a class piece, building up confidence so that there can be soloists doing this in a performance at the end of the year.

We have started to learn some pieces with more complicated rhythms and melody lines on the chime bars and have added in a boomwhacker accompaniment. We are aiming for a sophisticated performance at the end of the year.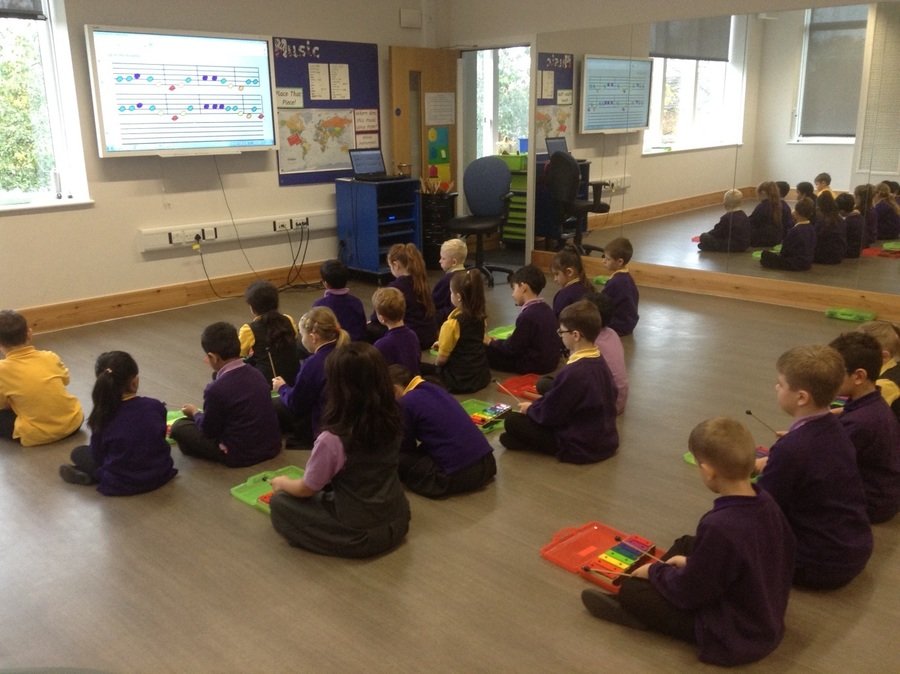 Year 3 Music Performance to Families and Friends
Year 3 gave a fabulous first performance in KS2 to their families, friends and teachers in the Big Hall and showed off both their expert chime-bar playing and their singing. There was a really good and enthusiastic audience so thank you for showing up and supporting the children.
Each Year 3 class played a piece with sections of improvisation and also a piece with opportunities for solos. It takes a lot of courage to play a solo in front of such a large audience and they all did very well. To finish off, the whole year group sang Life is a Wonderful Thing.
Sports Rhythms
This term, Year 3 started a new unit of work on reading and writing stave notation. The way we do this in KHEF is by learning a series of 'sports' rhythms which help us to form whole phrases and to build up to composition.
These are the rhythms:
Using these rhythms:
We learnt to clap them in different combinations to a steady beat around the circle.

We then did the same but on percussion instruments.

We matched note cards to the sports we had chosen, which let us play other people's music

We are now learning to write these notes accurately, so that we can compose our own pieces to play on the chime bars at our performance
We have been singing a song called 'My hat it has three corners.' It's a fun singing game where each round we leave out one more word. Thank you to Luna and Victoria for teaching us how to sing the same song in Spanish. In Spanish the song is called 'Mi barba tiene tres pelos' and translates as 'My beard it has three hairs'! We've had a lot of fun trying to learn the Spanish version.
Improvising on Chime Bars
In Y3 the children have been learning to improvise on tuned percussion. Everyone can play the main tune of either Manhattan Blues or Low Down Twos on the chime bars and then each child has had a chance to improvise in the gap between the two melody sections. Improvising requires a good sense of rhythm, some inventiveness and a willingness to take risks.
Classroom Celebration
Year 3 performed superbly well to their family and friends, celebrating all their hard work this year in music. They delighted the audience with a very varied repertoire of songs, chime bar and Boomwhacker pieces, performance poems and improvisation. They also played some of their own compositions created this year. Well done!
Converting media.
(Media will continue converting in the background)
Converting media.
(Media will continue converting in the background)
Converting media.
(Media will continue converting in the background)