Music Events
Upcoming Events..
Choir and Recorder Players at Buchan Street
As has become our annual tradition at KHEF, the children visit Buchan Street Care Home to sing and play for the residents. We thoroughly enjoy our trip there and the residents seem to really enjoy it too. This year we took choir members from Y4 and Y5 as well as the recorder players from Y5. Thank you to all the parents who so kindly volunteered to accompany us. Your help was very much appreciated.
Phoenix Concert with Choir
A small, but hard-working group of children from Kings Hedges choir, attended the annual Phoenix network event. The whole day was spent in rehearsal with a professional conductor and musicians and children from four different schools gave a truly sensational concert in the evening.
The music at these events is always challenging, and requires significant practising beforehand, but provides the children with a real sense of achievement.
The Grand Union Orchestra gave a taster performance at school. This was a great chance for our children to see some live music.It is linked to the BBC Ten Pieces Project.
To find out more about the concert 'Banding Together for Ten Pieces with the Grand Union Orchestra' at the Corn Exchange click on the following link: Grand Union Orchestra.
Click here to find out about the MusicLab.
Top Dog Songs
We have thoroughly enjoyed having Peter Hilken, a local poet, storyteller and songwriter, visiting some of our music lessons. He has been telling us a little about the song writing process and has shared some of the songs from his new book 'Top Dog'. Peter has written these songs along with Jeroen Schipper and Kathleen van der Weerd.
These songs are great fun, with catchy tunes and exciting lyrics, which play on words and are full of humour. If you would like to listen to some of these songs at home, then with the help of an adult you can visit the webpage and listen to them for free! The book with the words, music and cartoons can be purchased from local music shops or online retailers.
The webpage is: http://www.topdogsongs.nl/
If you have forgotten the password, then you can come and see Mrs Addison!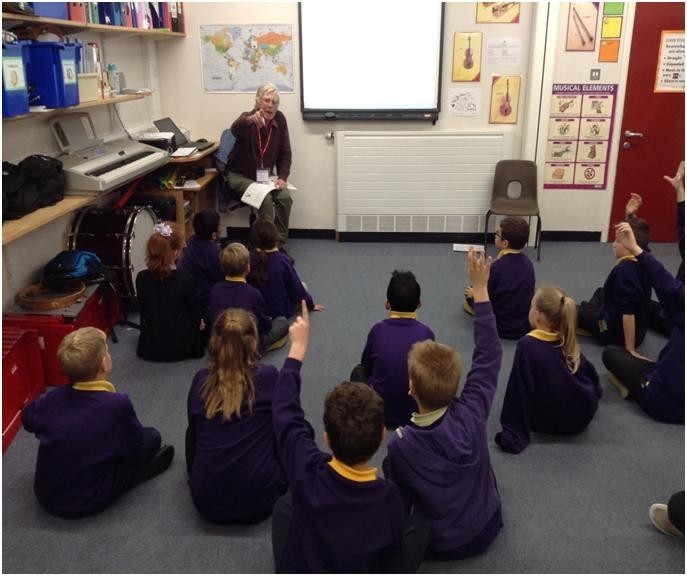 Peter talking to some of the Year 4s.
| | |
| --- | --- |
| (click on the link) | |
We Sing!
Members of the choir attended a fantastic singing day at Chesterton Community College. This was the culmination of a project called We Sing!, which we had taken part in through the Spring Term.
We were asked to learn five songs all relating to the theme of 'Around the World' and we had the chance to perfect these during two workshops at school with a professional conductor. In these sessions, we learnt a lot about how to sing better as a choir.
On the day itself, we practised and sang these songs with ten other schools, which was an amazing experience. We also got to perform one song by ourselves to everyone else. We chose Spaceship Jam because we had included some rather fun sections of drama between the verses. There was also a final song, written by the conductor especially for the event and we particularly enjoyed singing this song.
As our families had not had the chance to hear us sing, we gave a performance to the whole school and then to the parents, at school, after the Easter holidays.
KS2 Christmas Carols
Once again KS2 braved the cold weather and cheered one and all with their singing of Christmas Carols new and old, in what is becoming something of a tradition at Kings Hedges!
We have a short excerpt of our all-time favourite Christmas piece, Sheep for you to listen to.
Videos from Year 3 - 6