Nursery 2016-17
Settling In
We have been settling into Nursery! We have been exploring in our playground and we have been getting to know each other, our teachers and our classroom. We have had lots of fun using the climbing frame outside and we have been playing together.
Fun with Friends
At Nursery we have been getting to know one another and we have been busy making friends. We have been helping each other and we have been playing together. During our 'Fun with Friends' week, we played lots of team games and worked with lots of different people. We have been learning how to share and take turns.
Marvellous Me
We looked at our bodies and talked about facial features and skeletons. We had fun dressing up as doctors and treating our teddy bear patients!
Fun with Families
We found out about families. We talked about the different people in our own families and discovered that all families are different! We enjoyed engaging in role play, pretending to act out family scenes. The children particularly enjoyed looking after the babies and cooking dinner for the family using play-doh! They also pretended to go on family picnics together!
Sensational Senses
As part of our work on senses, we used our sense of sight and our sense of touch to create stained glass windows. We enjoyed looking through the different coloured panes of cellophane!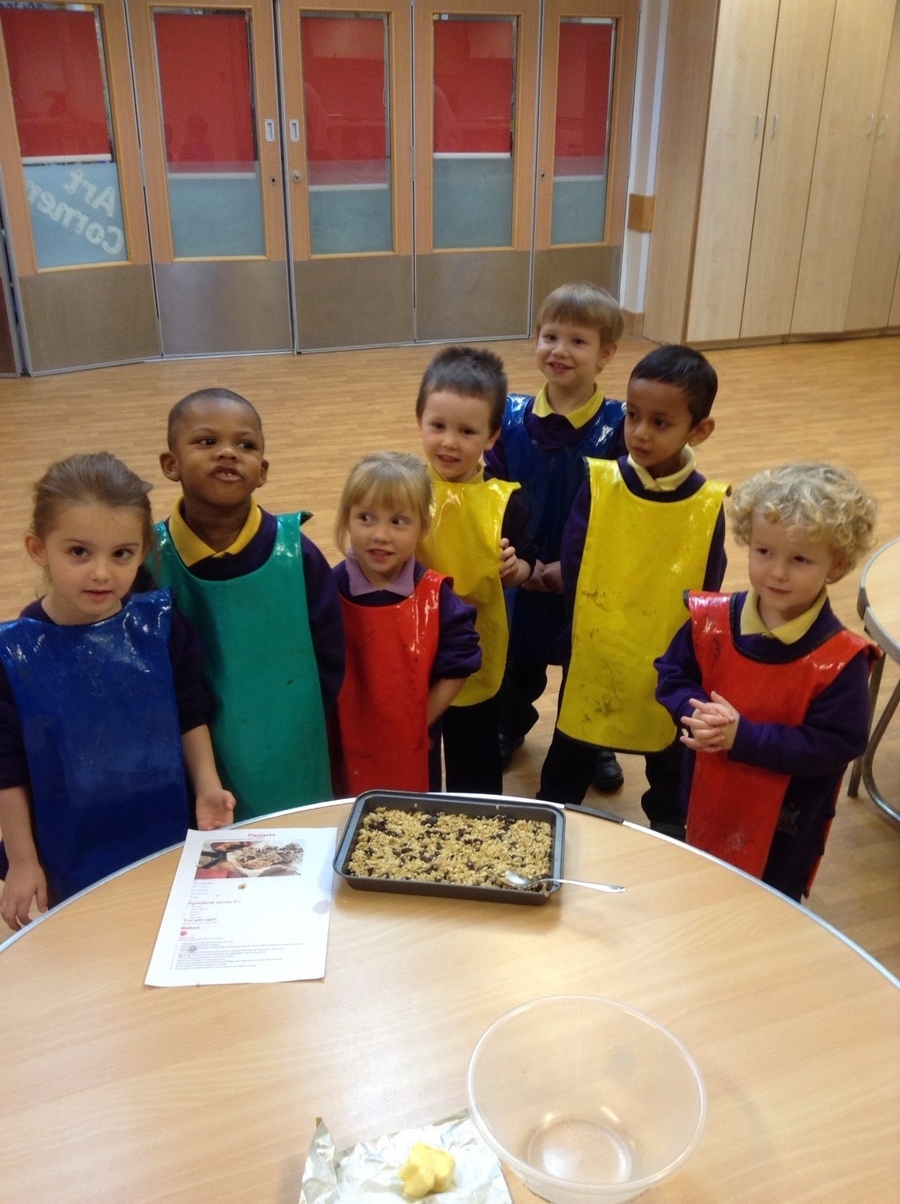 We investigated our sense of taste, touch and smell by doing some cooking! We used oats, raisins, golden syrup and butter to make our own flapjacks! We followed the recipe carefully and all made sure that we washed our hands before we touched any of the food or cooking equipment.
To Market, To Market
We talked about where food comes from. We found out that some people grow their own food but that other people buy theirs at the shops or on the internet. We had a visit from the 'Farm to Fork' team at Tesco. They brought in lots of fruit and vegetables for us to try. We got to touch, smell and even taste the food!
We used different ingredients to make faces using the food that Tesco brought into Nursery! We had fun choosing eyes, noses, mouths etc! Once we had finished, we got to eat our creations!
We played in our own classroom shop! We set up a greengrocers and sold real fruit and vegetables! We enjoyed writing shopping lists and pretending to be customers and shopkeepers.
Autumn Antics
We found out about seasons! We discovered that in the autumn there are lots of changes in the environment. We looked at the leaves and saw that many of them had changed colour! We decided to look for signs of autumn in our playground so we went on an 'autumn object hunt'. We found lots of different things including conkers, red leaves, yellow leaves, orange leaves, acorns and pine cones!
Bread & Butter
We discovered how to make bread! We learned about the ingredients and made our own loaves of wholemeal bread. We enjoyed pretending to be bakers and we delivered bread rolls to our 'customers'. We had a lot of fun getting covered in flour! We read 'The Little Red Hen' and then we acted out the story using props and costumes.
We went on a trip to the local bakery. We walked all the way there and back. When we arrived at the bakery we got to look at all of the different products that were for sale. We asked the baker questions about the ovens and the ingredients. We found out that they make the bread every morning before most people wake up! We used our pennies to buy some bread, cakes and gingerbread men (these were the items on our shopping list). We had a delicious picnic when we got back to Nursery!
The Gingerbread Man
We read the traditional tale of 'The Gingerbread Man'. Following on from this, we decided to make our own gingerbread men! We followed a recipe and mixed all of the ingredients together. We had to melt the butter and the sugar first, so that we could add them to the mixture. We found out about melting solid ingredients to turn them into liquid. We took turns to stir the mixture until it formed a ball of dough. After that we used rolling pins roll out the gingerbread. Then we used cutters to cut out gingerbread man shapes. Finally we cooked our gingerbread men in the oven. At the end of the day we got to take our creations home and eat them!
We had a great time acting out the story of 'The Gingerbread Man' using puppets. We pretended to be different characters and we loved chanting "run, run, as fast as you can. You can't catch me, I'm the gingerbread man!"
During our choosing time (child-initiated play time), we also enjoyed using the play-doh and cutters independently. The children had to squash, squeeze and roll the dough to shape it into different characters.
Here We Go! (Transport Week)
We looked at different types of vehicles. We discovered that not all types of vehicle travel in the same way – some travel by land, others by water and some travel through the air. We loved playing with the boats and trains!
Mr T brought his car to school for us to look at! He showed us the engine and explained that this gives the car power and allows it to move. We were very careful and made sure that we didn't touch the engine! Mr T then demonstrated how to change the oil. We enjoyed naming the different parts of the car!
We investigated which surfaces were best for racing cars down. We looked at several different types of surface (sandpaper, bubble wrap, foam, carpet etc.) and we measured how far the cars went along each one. We made predictions and then tested them. Not all of the surfaces were very good – some of them were too slippery, others were too rough.
We drew road maps for our cars and then used the maps in our play. We enjoyed working together as a team!
We played with the vehicles outside (scooters, tricycles, balance bikes etc.). We decided to make garages for them! We had to make sure that the garages were wide enough and long enough!
We went outside and conducted a traffic survey. We had to watch the road (we stood behind the school fence to keep us safe) and count how many vehicles went past. We recorded which vehicles we saw by making a tally chart. It was great fun! We were lucky enough to see a digger, a tractor and lots of buses; as well as cars, vans, bicycles and lorries.
We read books about different vehicles too!
Christmas 2016
We read The Christmas Story and sang Christmas songs for our parents and carers. We enjoyed making lots of different Christmas crafts and we had a fantastic time in our very own Santa's grotto! We wrapped presents for one another and used these in our play. We also decorated Christmas trees with our friends.
We had a very special visitor! Father Christmas took time out of his busy schedule and came to see us! We loved meeting him and we got to ask him questions about his job and his reindeer!
We had a Christmas celebration! We got to dress up in our own party clothes and we played lots of games together. We enjoyed dancing to festive music, singing songs and eating a Christmas feast!
Winter and The Stick Man
We started 2017 by reading Julia Donaldson's story 'Stick Man'. We had a great time making our own stick men using sticks, glue and collage materials. We then used these as puppets for role play. We enjoyed repeating key phrases from the text as we were playing with our characters.
We had fun drawing characters from the Stick Man story.
We found out about seasons and talked about winter. We looked at a selection of clothes and sorted them into different categories – clothing for cold winter weather and clothing for hot summer weather. We had to talk to each other to decide where to put each item of clothing. We discussed why we need to wear warmer clothes in cold weather. Everyday we practise how to put on (and fasten) our coats independently whenever we go outside. We are getting much better at this!
We explored in the ice sensory tray and found out how ice is made! We enjoyed observing what happened to the ice when it got warmer. When it melted we had to put it back into the freezer to turn it into ice again!
We also played with small world animals in pretend snow!
Making Music
We listened to lots of different musical instruments. We discovered that there are different types of instrument. Mr T played us his clarinet and saxophone! We found out that these are members of the woodwind family of instruments. He also played us different string instruments: acoustic guitar, ukulele and banjo!
We got to play lots of different instruments in our classroom. We learned about volume, tempo, pitch and rhythm.
We have also been listening to lots of songs. We have been dancing and moving our bodies to different pieces of music. We copied some of the teachers' movements, but we also came up with our own dance moves too! We enjoyed dancing with ribbons and making colourful patterns in the air.
Art and Artists
We had a whole week of learning dedicated to art! We found out about artists and discovered that there are lots of different types of art (e.g. painting, drawing, collage, sculpture etc). We decided to become artists for a week and each group of children worked on an art project. We had lots of fun and we are looking forward to seeing our work when it gets put on display as part of the next whole school art exhibition!
Some of us were responsible for making a tiger collage. We had to tear and cut out lots of pieces of orange crepe paper. Then we used glue sticks and PVA glue to stick these onto our large tiger template. This was quite tricky because our fingers got very sticky! Our next step will be to add black stripes to create a tiger pattern!

Another group of children made 3D lions. We had to look closely at existing models and pictures of lions so that we knew which features to include in our own creations. We really enjoyed making the lion faces by using different coloured pieces of card and paper. We made each lion a mane by sticking orange triangles onto a golden face. We added eyes and noses too.

Next we needed to make the bodies for the lions. We practised first by using paper, then we moved onto card when we were confident using the scissors. We cut out semi-circles to create a hole in the middle of the card. This left us with a body shape and four legs for each lion.

Some of us made tiger skin patterns. We talked about repeating patterns and practised making our own by using orange and black alternating stripes. First we did this using wax crayons, then we used paint. We talked about animal fur and why animals have different markings on their bodies.

Ways to Say I Love You
We talked about people who we love and discussed reasons for why we love different people. We made different gifts to give to our loved ones: cards, heart crowns, fairy cakes and paintings.
Pets
We found out about different types of pets! Some of the children and teachers brought in their pets from home to show us! We found out about the different things that pets need in order to be healthy and happy (food, water, love, exercise, access to a vet if needed, shelter, somewhere to sleep). The pets that came into the nursery were:

• Rio's puppy (a cross between a pug and a chihuahua)
• Taylor's two corn snakes
• Owen's guinea pigs
• Nicki's budgerigars
• Natalie's dogs

Many thanks to everyone who brought in their pets! We had a great time and found out a lot about how to take care of animals!
Where we live
We found out about where we live. We discovered that there are different types of homes. We talked about the features of homes: walls, roof, windows, doors, chimneys, rooms etc.
We made a picture of a town by drawing around different 2D shapes to create drawings of buildings.

The children spent time constructing different homes using a range of different resources. Some of the children made dens by using fabric and tripods, others used large building bricks, and some used Duplo and Lego. We had a lot of fun repairing the buildings when they collapsed!

We made a picture of a town by drawing around different 2d shapes to create drawings of buildings.
The children spent time constructing different homes using a range of different resources. Some of the children made dens by using fabric and tripods, others used large building bricks, and some used duplo and lego. We had a lot of fun repairing the buildings when they collapsed!

Staying Safe
It is particularly important to keep yourself safe when you are out near the road. This week we learnt how to keep ourselves safe when crossing the road. We practised using the zebra crossing outside our school to cross the road safely – stop, look and listen. We also used stopped, looked and listened carefully when crossing over other roads on our journey.
We talked about safety and how to keep ourselves safe. We found out that wearing a helmet helps protect our head when we are using bikes, scooters, tricycles etc. We also discovered that wearing reflective clothing helps us to be seen when we are out and about, especially when it is dark. The children enjoyed wearing the helmets and reflective jackets when they were using the tricycles and balance bikes in the playground.
We also looked at different household items. We discussed whether they were safe or dangerous to use without an adult. Together, we looked at the packaging on the cleaning products and found that some of them had warning signs indicating that they could be unsafe to use. We sorted the objects into sets - safe to use and dangerous to use. The children were very sensible and gave reasons for why they had chosen to put the objects into the different groups. The dangerous objects we looked at were in clear bags/packaging for safety purposes. The children were supervised for the entire activity and the staff handled the items that were unsafe.
We know that is very important to keep ourselves safe. We looked at the NSPCC PANTS campaign and learnt about the importance of keeping our bodies safe. We used the story 'Aliens love Underpants' as a stimulus for our activities. We found out about the NSPCC's 'Underpants Rule' and discussed the importance of wearing underwear. The children iced and decorated some pants for their gingerbread person.
Super Heroes
The children moved their bodies in different ways, pretending to be superheroes! We looked at different superhero cards around the playground and talked about the different actions and movements that the superheroes would make. We then used our own bodies to move like the superheroes on the cards. We practised: climbing, running, crouching, space, bending, stretching, standing on one leg etc.
Blowing in the Wind
Wow! What an exciting week full of fun learning! This week we used pirate role play to develop to learn about wind as a force. We developed our language to explain how things work and why things happen. We learnt that air is all around us and when air moves it creates wind. Wind is powerful, it can create sound and movement. We used air to blow out candles, to blow up balloons and to make balloons, balls, boats and bubbles travel. We investigated using pumps, straws and fans to create movement.
My Own Two Feet
This week the children have been describing and comparing the size, shape, style and position of different types of footwear. We used different tools and equipment to measure length and distance – welly-wanging was great fun! We tested the capacity of our shoes using stones from our stones lab and we talked about why some materials are not practical for shoes.
Roots and Shoots
We enjoyed planting and digging this week. By answering and asking questions we developed our understanding of how seeds grow into plants. We read and sequenced the story 'Jasper's Beanstalk'. We learnt the names of gardening tools and how to use them correctly. We look forward to watching the beanstalks and sunflowers we planted grow.
The focus for learning for this week was as follows;
• Plants need soil, water, sunlight and air
• Plants are living things that grow
• Plants have roots, stem, leaves, flowers and fruit
• We eat different parts of a plant
Highlighting Heritage
The children were very surprised to see so many colourful flags for a week of cultural celebrations. This inspired the children to ask and answer questions about the countries that some of their families have visited or live. The children learnt that different foods are eaten in different countries. Thank you to the parents who brought in cultural dress from home, it was a fantastic opportunity for the children to talk about their home life and experiences.
Six Legs or Eight
This week we developed our understanding of number through fun, practical activities with insects and other minibeasts. We learnt that 'insects' have six legs; three body parts and two antennae. We went on an insect hunt around the Nursery playground. We found lots of different minibeasts and some insects like butterflies, bees, ants and ladybirds. We looked at photos of camouflaged butterflies, did you know that some butterflies have patterns on their wings to look like owls and protect themselves from birds eating them?
The focus for learning for this week was as follows;
• Insects have three body parts and six legs
• Spiders have two body parts and eight legs
• Spiders are not insects, they spin webs
• All insects need air, food and water to live
• Insects and spiders hatch from eggs
• Caterpillars change into butterflies
Zoo Clues
This week we learnt about the type of animals that live in a zoo; zoo animals are usually different from pets and farm animals. We know that zoo keepers and vets take care of zoo animals – it can be a dangerous job feeding and caring for the lions! We enjoyed listening to and joining in with the rhyme and alliteration in the story "class two at the zoo". We used role play, music and movement to act out the story. We used different art mediums to replicate animal prints.
Baa Baa Moo
"Old MacDonald had a farm E I E I O!". We had lots of fun role playing being a farmer, working hard to look after the animals and keep the farm organised. Farmers work hard to look after their animals to keep them healthy so they can sell the produce. We had to shovel, build, clean and feed, it was exhausting! We learnt that different meats come from different animals. We were surprised to see our playground turn into a farm when Gemma's Farm came to visit us for the day. We learnt how to care for the animals and enjoyed touching and feeding them.
The focus for learning for this week was as follows;
• Farm animals provide us with products that we eat and drink
• Some types of animals are kept on farms
• Cows live on farms and provide us with milk
• Some of the animals that live on a farm are working animals
To see work from previous academic years, please click here