Clash of the Classes
We held Clash of the Classes again this year for the first time in a couple of years. All year groups from Y1 right up to Y6 chose a song and sang on the stage in front of the whole school. The judges had a very difficult time choosing between the performances but the final results were:

1st place – Year 4 singing I Wanna Be Like You
2nd place – Year 3 singing Food Groups are Rockin' Tonight
3rd Place – Year 2 singing A B-U-G
Here is a photo and recording of the winners singing their song: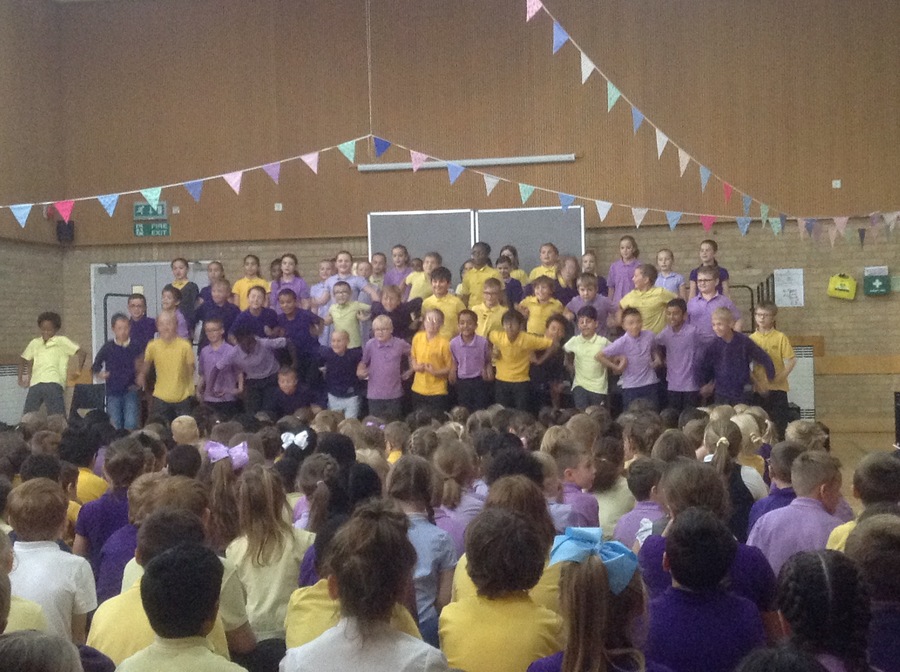 Converting media.
(Media will continue converting in the background)
Assemblies
We have a weekly singing assembly where we enjoy singing a range of songs together as a whole school. We often spend time working on a particular piece to perform at a special celebration or assembly. Last term, we learnt a song called Let Love Shine Through, which is a song which was sung by schools across the country to celebrate National Sing-Up Day.
We also from time to time invite children to perform on their instruments or our school choir sings for us. Here you can hear our KS2 choir singing a tricky three part song called Building. We really enjoyed learning this song, although it was quite a challenge.
Stomp Performance at Sprung! 2017
All the pupils in Y6 this year have been learning about Stomp and have created their own stomp – style pieces. We were therefore delighted to be invited by Adele Thompson to perform at the Queen's College annual dance performance called Sprung! One group represented our school with their piece called "Beatz" by Hair and they excelled themselves both in their beahviour and their outstanding performance. Thanks to Duncan Grisby for the fantastic photos.
Symphonia Academia
Thanks to Cambridgeshire Music and their live music programme, we able to have Symphonia Academia give a performance to Years 1 to 6. The ensemble consisted of a violinist, a violist, a cellist and a keyboard player/composer. Children and adults alike thoroughly enjoyed the performance which included hearing the instruments play some classical pieces, hearing some of our pupils play along with the ensemble on recorders and pianos, learning a new song as a school, and the feature piece which was a retelling of the story of Peter Rabbit set to music.

Here you can see some of the performers and hear our pupils play with the professional musicians:
Christmas
Nursery Christmas Performances
Morning and Afternoon Nursery both performed to their families and friends, singing some of their favourite Christmas songs. They then had some Christmas activities in their classroom.
Reception Christmas Performances
The Reception classes sang to their family and friends in the main hall and attempted some lovely, but challenging winter songs.
KS1 Christmas Performances
KS1 gave two wonderful Christmas performances to family and friends. They have worked extremely hard, perfecting challenging words and beautiful melodies. In addition to their singing, some of the older children played Little Donkey on the chime bars and children from Yr1 recited a lovely poem about snowmen.
KS2 Carol Concert
As ever, the hardy children of KS2 braved the great British weather and brought some Christmas joy to their family and friends by carolling outside. We were lucky this year to have the shelter of the new 'Angel Wing' and the wonderful new sound system to keep us all in time. Each year group sang their own Christmas song and we all joined together to sing some of our favourites such as Jingle Bells and Sheep. Well done KS2 – you sang brilliantly!
Thank you children and teachers for all your hard work. Please have a listen to some of the recordings below:
Singing Group at St John's College
Some of our Y4 and Y5 children have been working hard this term with Miss Wilson, a music teacher from Chesterton Community College as part of a singing group on a Friday afternoon. This choir then performed alongside another primary school and some Y7 students at St. John's College Chapel on Wednesday 14th December. They sang beautifully in such a grand setting. Many thanks to Miss Wilson and also to the parents for bringing the children to the college and coping with quite a late night!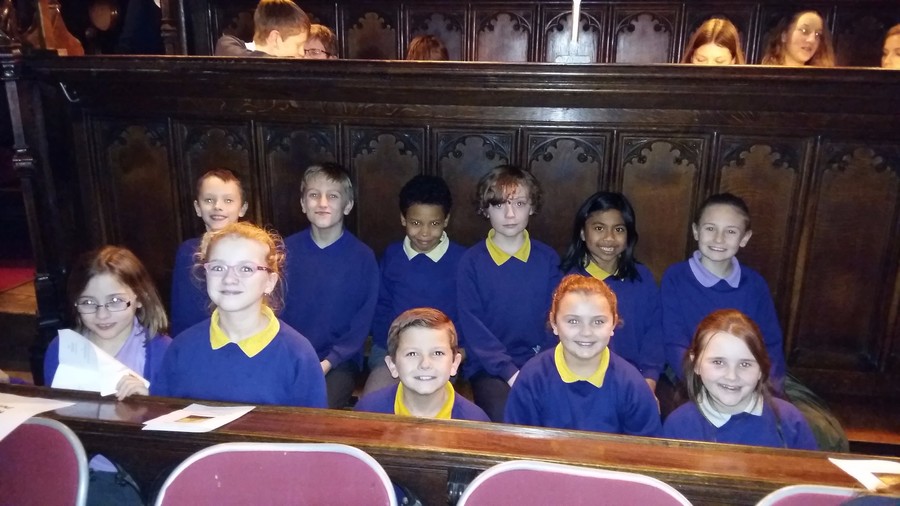 Buchan Street Care Home
As has become a tradition at King's Hedges, Mrs Addison and the choir visited Buchan Street Care Home to sing carols for the residents there. The children sang beautifully and the residents were delighted.
Christmas Assembly
We gathered in the hall for the chance to perform to each other some of our Christmas pieces and to see some of the instrumentalists perform. We were treated to singing and a whole range of instrumental playing, including violins, recorders, chime bars, ocarinas and ukuleles.
Harvest
A big thank you to all parents and friends who donated so generously to our Harvest Celebrations with food for the Food Bank. We had a lovely assembly with David the vicar and sang our 'Harvest Song'. Here is a recording of our singing for you to enjoy:
Number Song by Year 5 and 6
While some of Year 5 and 6 were away at the farm, those of us at school set ourselves the challenge of learning to play a new piece of music, performing it and recording it in less than an hour. We set our sights high with a song called 'Number Song' and performed it on chime bars, keyboards and xylophones. We did this in two groups and you can hear our recordings below:
Group 1 – Showed their talents by including a round and a bass ostinato part.
Group 2 – Chose a different structure including the bass ostinato part.
Classroom Celebrations
At the end of this half term children in Year 3, 4 and 5 are holding mini performances which will take place in the new hall. They start at 2.40pm and finish by the end of the school day.
We would like to invite parents to the short concerts. The dates are as follows:

Tuesday 17th May - Year 3 Classroom Celebration
Monday 23rd May - Year 4 Classroom Celebration
Tuesday 24th May - Year 5 Classroom Celebration
Please click the relevant year group to listen to some recordings of the performances.
Click on the link below to view the BBC Ten Pieces website where we now have three performances from our school featured. Scroll to the bottom of the initial page then click on 'See all clips from Ten Pieces'. We can be found under the 'clips' section.
http://www.bbc.co.uk/programmes/p01vs08w
Also linked to this project, some of the musicians from the Grand Union Orchestra gave a taster performance at school on Tuesday 24th March. This was a great chance for our children to see some live music.
Please click on the link to find out more about the: Grand Union Orchestra
Introduction
Music is a creative and social subject. It is a means of communicating ideas and emotions and it can be used to enrich and reinforce learning in many other areas of the curriculum. It is also an international language.
Aims
To further the children's creative, intellectual, emotional, social and physical development.

To provide an enjoyable experience for all children regardless of ability or culture, so that they feel confident and positive about any contribution they make.

To encourage a love for music so that it will remain a source of pleasure throughout life.

To give children the opportunity to explore the key components of music.
Curriculum
From Nursery through to Year 2, music is taught by the class teacher, who organises their music sessions to work alongside their topic and other foundation subjects.
In Key Stage 2, each class is taught by Mrs Addison, a part-time, specialist music teacher. In both Key Stage 1 and 2, playing instruments and singing form the heart of the music curriculum. Through these elements, the children can experience and understand many of the other aspects of music. We try to provide good quality performance opportunities and these include our Christmas singing, our classroom celebrations and 'The Clash of the Classes'.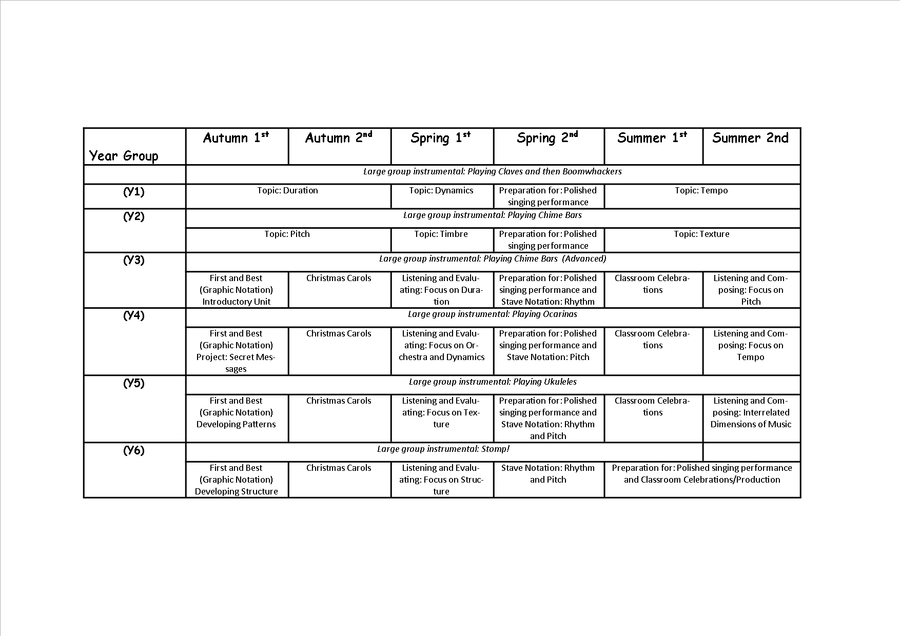 Children in Key Stage 2 will learn how to read and write stave notation so that they can play and sing music written by other people and can record their own music on paper. The list below shows the order in which the elements of stave notation are taught:
Stave Notation
Children start to follow stave notation when singing songs

Children understand that pitch is shown by the position of the notes on the stave

Children understand that different types of notes are used to show rhythm

Children use note names to play simple melodies on tuned percussion

Children are introduced to crotchets, pairs of quavers, crotchet rests, treble clef, common time, note names and positions of Middle C to Top C

Children are introduced to minims and minim rests, 3/4 time, and extend note names and positions up to Top G

Children begin to record music using note names

Children use notes on stave to play simple melodies

Children are introduced to semibreves and semibreve rests and 2/4 time

Children begin to record their music on the stave

Children are introduced to semiquavers and semiquaver rests, 6/8 time, sharps and flats

Children record compositions using stave notation
How to Help Your Child at Home